This February when I attended Toy Fair in New York, I attended as a blogger for Child's Play. Toy Fair is an absolutely huge exhibition and sales conference. For many years I attended as the art buyer from one of the best toy stores in the nation. When I walked into a booth I was treated with a great deal of respect due to my buyer's tag. When the booth staff saw my store name and location, many an exhibitor would jump to their feet and grab an order pad. They expected me to be fully knowledgeable about products and did not waste one second of my time.
I found I was treated very differently as a blogger. Some booths were courteous, but many had me wait to one side as they found the press liaison or marketing director. I often was walked through a both while the sales person rapidly recited ad copy scripts promoting the newest toys in the line. Finally, after hearing a few too many trite phrases, I would interrupt with a pointed technical question. Thereby informing the sales person I knew quite a bit about their product line.
One woman even turned to me in surprise saying, "Wow, you know your stuff! I was assuming you were just a mommy blogger."
Just a mommy blogger. I find mommies are rarely just anything. They are homemakers, caregivers, artists, teachers, lawyers, shop-keeps and doctors. One of the greatest mommy bloggers I have ever known is Wendy Sue Swanson.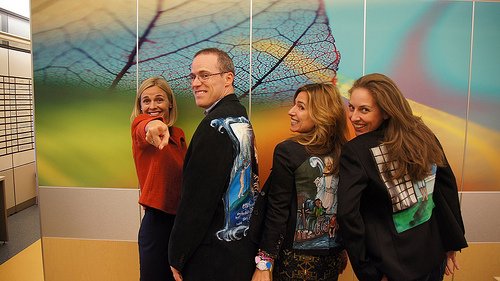 I met Wendy on Twitter as
@SeattleMamaDoc
. She always tweeted astute comments about clinical care and social media. Soon after Toy Fair I asked her to join The Walking Gallery.
This is her Jacket: "The Sacred Duty of a Mommy Blogger."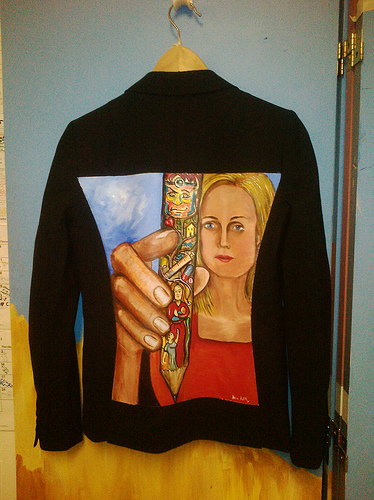 In this painting a contemplative Wendy stares at the pencil in her hand. She is preparing to write. She holds her duty as a sacred one. The pencil itself is placed well within the foreground of the painting and seems as large as a totem pole, for that is exactly what it is.
At the top of this totem pencil is Wendy's doctor from her childhood. He is two-faced within the carving. One side of his face seem loving the other side is malevolent. As a child Wendy suffered from a minor condition that required many injections and expensive long-term therapy. She trusted and liked her doctor a great deal over the years of her treatment. She finally did get better and suffered no side effects from the treatment.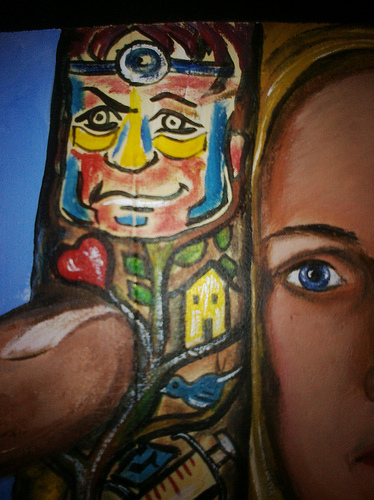 Fast forward a few years later to college, the FBI interviewed Wendy about her old doctor. Apparently he had lost his license for fraud and he was laundering money. Soon, Wendy completed her degree to teach math and science to 6th– 9th graders. She enjoyed teaching but realized her heart was aching for a different life path. She decided to go to medical school.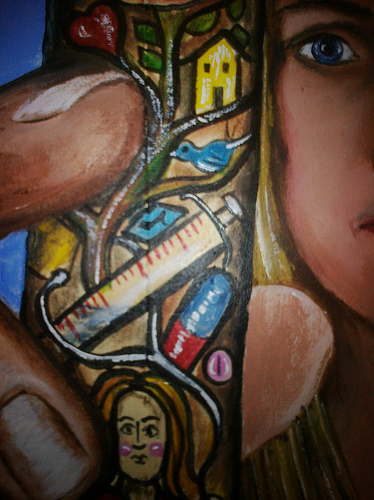 She finished her medical school degree while dealing with personal health issues. She received a master's degree in bioethics. She focused her research on the effect of media on the dyad of the patient-doctor relationship. While in her residency she helped very sick children. She saw first hand love and joy, hope and loss. By the end of her training she had a new reason to be joyful: she was pregnant with her son.
Wendy became a community pediatrician right after training. All of her years of study had prepared her for much of her new career, but the best teacher was her small son. She now practiced medicine as a Mommy Doctor. The old way she looked at the world had fallen aside and now she saw life through a prism. The light of knowledge would pass through her and form a rainbow of understanding.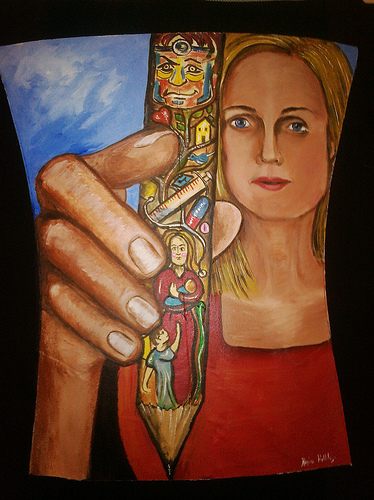 But once you see as Wendy does, being a local doctor is not enough. There are so many people who need help. So Wendy tweets, Wendy writes, Wendy spends night and day working on ways to revolutionize healthcare. She wants to see a world where patient and doctor communication improves. She hopes to find a space or build one where doctors and patients are happy and fulfilled.
I think she will do it. After all, she is a Mommy Blogger.