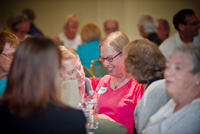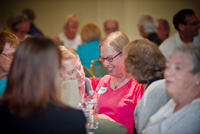 Some words from the past centuries Eastern European Jewish dialect, Yiddish, have crept into our vocabulary.
As I wrote about last year
, my favorite is "schmooze," defined as: "to chat in a friendly and persuasive manner especially so as to gain favor, business, or connections." Personally, I think this definition misses an important quality of "schmoozing" in that it is usually done with a strong dose of warmth and openness. And, I love it! I have found it's one of my favorite things to do and, given my role in cancer communications, we have tried to build the "schmoozing" component into everything we do to help patients and family members connect with others and gain confidence. The subtext of the schmoozing we do, whether it is with a patient, a world famous expert, or a family member is: "we are all in this together as a community."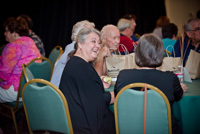 Now, in 2015, we have also taken schmoozing to an additional level and made it sustained. That means if you become part of the Patient Power community, we don't schmooze with you once but all the time. It's the way we interact. And we believe it's unique. We talk with people, not at them, and we want to know everyone's story. That's why our town meetings are not seminars, they are conversations. I like to call them "Oprah for Cancer." We've got several coming up in lung cancer, MPNs, advanced prostate cancer, myeloma, and CLL—from Chicago to Houston to Seattle to Palo Alto. Schmoozing across the U.S. And now in Europe, too. Last year's myeloma event in Barcelona has now led to an MPN town meeting in London in July and another one planned for Germany. Patients meeting patients and experts. Family members feeling in-the-know.
Having watched this approach blossom at in-person events and now with the "Patient Café" discussions from our partner, the Patient Empowerment Network, I KNOW we are filling an unmet need not just in content, but in tone and style. When we talk about cancer, it is not just about facts, it is about emotion. Connecting with others in the style of schmoozing can help calm fears and get doctors, patients and family members in-sync.
Now that we have seen the benefit of this approach, we are trying to accelerate it. In a couple of weeks in Chicago, the huge ASCO (American Society of Clinical Oncology) annual meeting is held. Thousands of people will be there as the latest news in cancer is discussed and clinical trial results are presented. It used to be that it was just for doctors. Not anymore. We've been covering it for patients for years, and now we cover more and more of it "live." This time chronic lymphocytic leukemia patients around the world will be asking questions on video of Dr. Nicole Lamanna from Columbia University. Not only is she a top specialist, she's also a very warm "schmoozer!"
My hope is the vast array of players in the oncology world, pharma, diagnostic companies, and medical groups will start to "get it" and allocate more financial support for this style of communication to bring cancer communities together and inspire positive action. Truthfully, too little is allocated now, and statements about "patient centricity" are still hollow. I will not be at ASCO myself but rather in Paris speaking at the Doctors 2.0 conference on this very topic.
But wherever we are, we'll keep schmoozing. Won't you join me?
Wishing you and your family the best of health!