Cardiac arrest is a terrifying medical condition. The National Institute of Medicine reports that 600,000 Americans suffer from cardiac arrest every year. Over half of them (350,000) suffer from them outside of medical facilities. On the surface, the statistics are not very encouraging at all. The vast majority of people that have a cardiac arrest die from it. However, the statistics are much less bleak when you are looking at people that have undergone the right treatments and take the right precautions. One of the best things that people can do is get access to an AED. The probability of surviving a cardiac arrest without one is 1-5%. However, people that have an AED are much more likely to survive. People who are at risk of a cardiac arrest should get access to an AED. They should compare different brands on the market to get the best protection.
Getting the Best Treatment with the Right AED
When a person goes into cardiac arrest, CPR and defibrillation can more than double their chance of survival. That's why more and more states are requiring automated external defibrillators (AEDs) in schools, churches, hotels, and other public gathering places. If you need an AED for your own gathering place or even your home, there are a few specific models that dominate the market in 2019 for good reason. 1) ZOLL AED Plus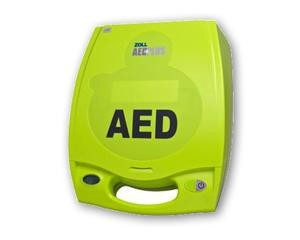 The ZOLL AED Plus is compact, rugged, and streamlined for the layperson. If you want superior ease of use, this is the AED to purchase. Key Benefits: Real CPR Help® technology provides CPR coaching and even tells the user if they're applying enough pressure during chest compressions. No other AED on the market offers this kind of coaching. Compatible with ZOLL's Pedi Padz II electrodes, the device is suitable for use on children as well as adults. Best For: Residential homes and professional environments where basic life support training is at a minimum. 2) Physio-Control LIFEPAK CR2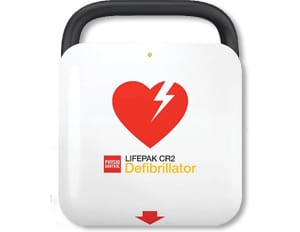 The Physio-Control LIFEPAK CR2 is another easy-to-use model that's suitable for all skill levels. ClearVoice audible instructions provide step-by-step coaching to ensure total safety and accuracy, and this rugged little machine boasts an IP55 rating for dust and water resistance. Key Benefits: This is the only AED on the market that automatically detects shockable rhythms and administers electric shocks accordingly without input from the user. The device is as intuitive as it gets, designed with built-in monitoring that assesses the readiness of the hardware at all times. If anything goes wrong with the AED at any time, you receive instant alerts. It's also easy to toggle back and forth between standard and child modes as needed. The audible instructions are even available in both English and Spanish. Best For: Bilingual workplace environments, elementary schools, daycare centers. 3) Philips OnSite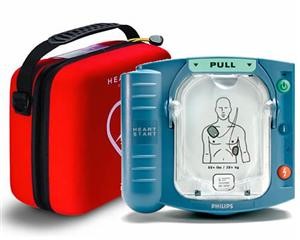 The Philips OnSite is one of the most cost-effective defibrillators in its class, but it doesn't skimp on features. This automated external defibrillator performs 85 self-tests every month, so it's the perfect tool for emergency preparedness. Key Benefits: The Philips OnSite is one of the few AEDs to offer both audible and visual instructions for use. It guides the user through both CPR and defibrillation, even instructing on the proper rate and depth of chest compressions. Weighing only 3.3 pounds, it's also one of the most lightweight models available. Best For: Small businesses, churches, and other budget-conscious environments in need of quality medical devices. 4) HeartSine Samaritan 450P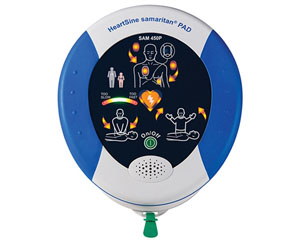 The HeartSine Samaritan 450P is a durable, lightweight defibrillator made with HeartSine's proprietary electrode and SCOPE biphasic technologies. It's one of the most sophisticated AEDs on the market, and it's suitable for all skill levels. Key Benefits: The 450P is noted for offering real-time CPR and defibrillation coaching that can be adjusted based on the user's expertise. To ensure maximum usability, the device contains only two buttons: one to activate the device, and one to deliver shock. At just 2.4 pounds, it's the most lightweight model on the market (along with its sister AED, the Samaritan 350P). It also boasts an IP56 Dust & Water Rating, ensuring that it can hold up to all the abuse that comes its way. Best For: Laypeople and professionals alike. 5) Defibtech Lifeline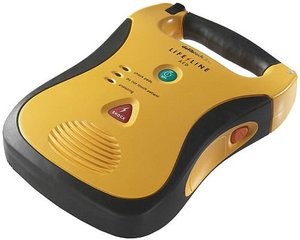 The Defibtech Lifeline AED is trusted by medical professionals on account of its rugged construction, enhanced ECG tracking, and effortless portability. As an added bonus, it's extremely affordable when compared to similar AEDs in its class. Key Benefits: Though it's more than adequate for emergency professionals, it's user-friendly enough for anyone to operate. It offers both audible and visual prompts, and the device even has built-in technology to address ventricular fibrillation—the most common cause of cardiac arrest. It's also available in both automatic and semi-automatic models, so the user can choose the device that's best suited to their skills and comfort level. Best For: Military, firefighters, first responders, emergency professionals
Choosing the Best AED is Vital to Your Health if You Have Heart Disease
Heart disease is the number one killer in the United States. Fortunately, a great AED can make all the difference in the world and ensure your survival if you have cardiac arrest. Finding the best AED is all about assessing your needs. Determine what's most important for your home or organization, whether it be price, ease of use, child-friendliness, or even multi-language capabilities. Once you understand your top priorities, finding the best AED is easy. Thankfully, there's an array of excellent options to choose from in 2019.