One of the many reasons healthcare marketing professionals hesitate to jump right into digital is due to its fragmentation. Which platform should you focus on first? Which platforms should you avoid? Which platform is going to provide the best ROI? All of the available choices can seem terribly overwhelming.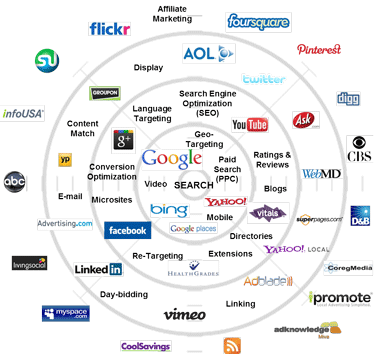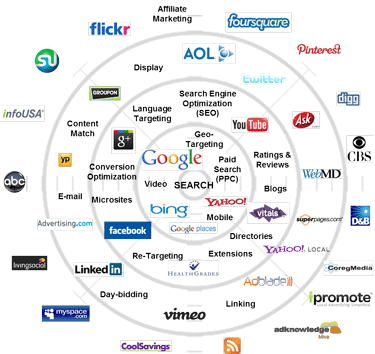 One of the many reasons healthcare marketing professionals hesitate to jump right into digital is due to its fragmentation. Which platform should you focus on first? Which platforms should you avoid? Which platform is going to provide the best ROI? All of the available choices can seem terribly overwhelming.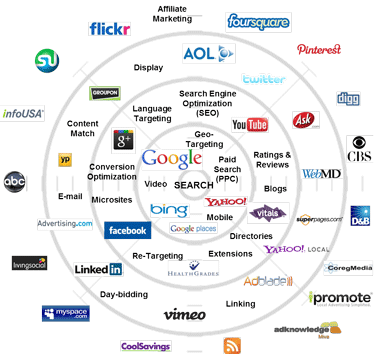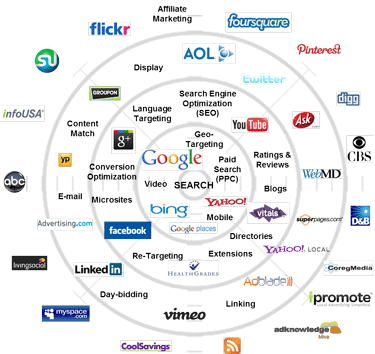 However, engaging in digital marketing has become a necessity. If you think you're in over your head, take a step back. We're here to help you navigate the digital waters.
Today, we'll discuss the top digital platforms for your healthcare marketing and the different channels you can utilize in each one.
Google
With approximately 67.6% of the U.S. search engine market share, Google rules the digital marketing roost. In December 2014 alone, according to comScore, users performed 12.2 billion explicit core searches on Google. How is this relevant to the healthcare industry? The search engine's own insights found that search drives nearly three times as many visitors to hospital sites compared to non-search visitors.
So what are your options when it comes to advertising on the world's largest search engine? First off, you'll need to get familiar with Google AdWords, the site's advertising platform. From there, you'll have the ability to promote your hospital or healthcare practice via:
Search Ads
These are pay-per-click ads that appear above or to the side of a user's Google search result. When it comes to search engine marketing (SEM) on Google, you have a few different targeting options. You can target by:
Keyword: Choose words or phrases relevant to your product or service so your ads appear when customers use those terms to search on Google or search partner sites, like AOL.
Location/Language: Choose the language and geographic locations — such as a country, region or city — where your customers are located.
Device: Show your ads to the right people across all devices, based on their specific location, time of day, and device type.
Display Network
The Google Display Network allows you to place ads (text, image, interactive, video) on a variety of news sites, blogs and other niche sites across the internet to reach more potential customers. Here, you'll have access to the above targeting capabilities and more including:
Contextual Targeting: This type of targeting is used to match your ads to sites or pages based on the keywords or topics you've chosen.
Topic Targeting: Target your ad to multiple pages about specific topics at once.
Placement Targeting: Choose websites on the Display Network that your customers visit where you'd like to see your ads. If you select this type of targeting, Google will only look at your chosen sites when searching for relevant places to display your ads.
Audience Targeting: Show your ads to specific groups of people as they visit Display Network websites and apps.

Remarketing

: Shows your display or contextual ads on other websites to visitors who visited your website and left without taking any action. There are other services like Adroll who specialize only in remarketing (or retargeting) outside of the Google platform.
For the healthcare industry, paid ads pay off. Google found that when patients come across paid ads, they take action: 35% conduct searches for more information, 29% begin the research process, 28% visit the website of the hospital advertised, 21% consider the hospital advertised and 5% contact that hospital.
To every healthcare marketer, the expansive Google network is invaluable.
Yahoo Bing Network (YBN)
Don't let Google blind you to the other options available for SEM. The Yahoo Bing Network, though much smaller than Google's, should not be overlooked. In fact, if you're just getting started, YBN may be a nice pool you can use to get your feet wet. As we've mentioned before, it even boasts some impressive statistics in comparison with Google:
Lower cost per click (50% to 70% less than Google AdWords)

36% less competition than Google AdWords

The ability to increase reach by up to 30% with an additional 150+ million users (45 million of which only ever use Yahoo! Bing)
The Yahoo Bing Network is the combined advertising marketplace consisting of Yahoo, Bing, MSN and related partner sites. With Bing ads, you'll have access to most of the targeting options available across Google sites including location and demographic targeting.
Google is the search engine giant, but don't underestimate the YBN. Everyone loves an underdog.
Facebook
Worldwide, there are more than 1.39 billion monthly active Facebook users, and 890 million people are active on Facebook daily. Obviously, this social media site stands out as a top digital platform for healthcare marketing.
According to a recent DC Interactive Group survey, 26% of all hospitals in the U.S. use Facebook and other social sites to reach potential patients—with good reason! Research from Pulse Digital Marketing found that:
51% of patients say they'd feel more valued as a patient when doctors use social media, blogs, and other digital engagement outlets

90% of adults said they would trust medical information shared by peers in their social media networks

41% of patients said social media influenced their selection of a healthcare provider
So when you decide to add social media marketing via Facebook to your digital mix, here's what you need to know:
You have the option to create display ads, boost engaging posts on your page or even present users with a Facebook Offer. With all of the information available to Facebook from its users, you can target by:
Location: Reach people in cities, countries and communities where you want to do business.
Demographics: Choose the audience for your ad based on demographics like age, gender, education and more.
Interests: Reach people based on their interests, hobbies and Pages they like on Facebook.
Behaviors: Find people based on their purchase behaviors, device usage and other activities.
Connections: Reach people who are connected to your Page, event or app, as well as their friends.
Custom and Lookalike Audiences: Connect with the people you already know, and more people like them, on Facebook.
Though the majority of healthcare marketers have yet to throw their hat into the social media ring, getting started on Facebook enables you to form and foster more personal connections with patients.
YouTube
In a report released by Google in 2012, the company reported that YouTube traffic to hospital sites had increased by 119% year-over-year. As more people turn to online video for bite-sized, easily consumable content, this kind of traffic will only continue to grow. The search engine cites online video as a pivotal component of hospital research.
Here are your options when it comes to advertising on YouTube (you can set up your campaigns and targeting options in AdWords):
Display Ads: Appears to the right of the feature video and above the video suggestions list. For larger players, this ad may appear below the player.
Overlay Ads: Semi-transparent overlay ads that appear on the lower 20% portion of your video.
Skippable Video Ads: Skippable video ads allow viewers to skip ads after 5 seconds, if they choose. Inserted before, during, or after the main video.
Non-Skippable Video Ads: Non-skippable video ads must be watched before your video can be viewed. Long non-skippable video ads are also available and may be up to 30 seconds long. These ads can appear before, during, or after the main video
Statistics across the Web flaunt online video's ability to attract, engage and convert customers, so investing in this advertising medium is key for your healthcare digital marketing strategy.
Even after reading this article, digital advertising may seem daunting. Keep in mind, it's not all or nothing. Start off slow with one or two platforms and go from there. It has become essential to reach patients online and the aforementioned digital platforms are here to help. You're ready to dive into digital.