Editor's Note: Dan Munro is a contributing editor to Forbes. His columns are collected under the heading, "The HealthCare Compass.
Editor's Note: Dan Munro is a contributing editor to Forbes. His columns are collected under the heading, "The HealthCare Compass.
Last week, the ongoing twitter conversation under the hashtag #BCSM officially expanded online in support of the global breast cancer community. The new website is here: http://www.bcsmcommunity.org – and there's a companion YouTube Channel here. The hashtag itself stands for Breast Cancer Social Media – and the first online community "chat" using the #BCSM hashtag was on July 4th, 2011. Websites aren't normally all that newsworthy anymore, but the evolution here most definitely is. The more traditional trajectory, of course, is to start with a website and then add a "twitter handle" as a way to expand an audience or community reach. Among the many amazing powers of twitter, it seems, is the ability to reverse that model. At least that's been the trajectory for #BCSM.
It's also reflective of several emerging trends around building successful online communities – which has been especially evident in healthcare. The popularity in healthcare seems to come from several key milestones and attributes.
Maturity of twitter itself (7 years old with a "best of" birthday YouTube video here)
Easy online experience and ease of use – especially the simple hashtag – as a way to quickly build "channels" (hashtags are also coming soon to Facebook – WSJ article)
Organic popularity and growth – especially in a wide variety of healthcare topics and communities
Pioneering support by a growing number of clinicians – also in evidence with this New York Times piece on @kevinmd (aka: Dr. Kevin Pho)
In the case of #BCSM, there were many who joined the conversation and community "tweetchats" early on, but among those noticeably at the helm were Dr. Deanna Attai (@DrAttai), Alicia Stales (@stales), and Jody Schoger (@jodyms)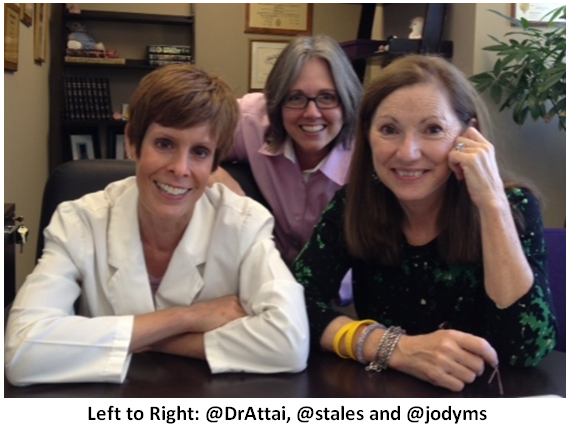 From their website bios:
Dr. Attai is a Fellow of the American College of Surgeons, and is an active member of the American Society of Breast Surgeons (ASBrS). She is the Chair of the Communications Committee and a member of the Board of Directors of the ASBrS. She is certified by the American Society of Breast Surgeons for the performance of breast ultrasound, and is an ultrasound instructor for the American College of Surgeons. Her private practice, The Center For Breast Care, Inc, is accredited by the American Institute of Ultrasound in Medicine. Dr. Attai has appeared on ABC and NBC – and is a regular guest on Fox 11 Los Angeles.
Alicia Staley is a three-time cancer survivor committed to making a difference in the health care community. She started the Staley Foundation, a non-profit organization based in Boston, MA, in October 2007. The Foundation serves as a way to provide education, advocacy, and assistance for those affected by cancer as patients, caregivers, family, or friends. She shares her passion and enthusiasm for helping the cancer community by contributing to Awesome Cancer Survivor and the BCSMCommunity.org.
Jody Schoger has more than 30 years of experience in public relations and communications in health care, science, education and the arts. Following her own diagnosis with a locally advanced breast cancer in 1998, she has since devoted her energy to helping other survivors. She is the author of the "Anchored Activism" columns in Oncology Times, the respected WomenWithCancer blog, and is the co-founder of #BCSM, a dynamic virtual community for breast cancer survivors.
The group hosts the #BCSM tweetchat every Monday at 9PM Eastern and an easy tool to use for joining in (with any twitter account) is www.tweetchat.com. This browser-based service will automatically append the all important hashtag to each tweet so that the conversation is filtered (and searchable) by each hashtag conversation. Other notable regulars and/or guests on #BCSM include:
@dianeradfordmd – Diane Radford – breast surgical oncologist
@Dr_Dana – Dana Abraham – breast surgeon
@MikeCowher – Michael Cowher – breast surgeon
@rsm2800 – Robert Miller – medical oncologist
@drsteventucker – Steven Tucker – medical oncologist
@jrgralow – Julie Gralow – medical oncologist
@subatomicdoc – Matthew Katz – radiation oncologist
@DrBeckerSchutte – Ann Becker-Schutte – licensed counseling psychologist
@FischMD – Michael Fisch MD, medical oncologist
@ctsinclair – Christian Sinclair MD – palliative medicine
@danceswithpens – Donna Peach – who just lost her battle with breast cancer this last week
Symplur – a social media consultancy with a focus on healthcare developed The Hashtag Project as a directory listing of healthcare social media communities and tweetchat activity. Co-Founded with two others by noted orthopedic surgeon Howard J. Luks, it also runs analytics for each of the healthcare hashtags in the directory. As one of the healthcare pioneers, #BCSM is always among the highest rated and the statistics (as provided by Symplur) over the course of this last year are impressive (running at almost 6,000 tweets per month).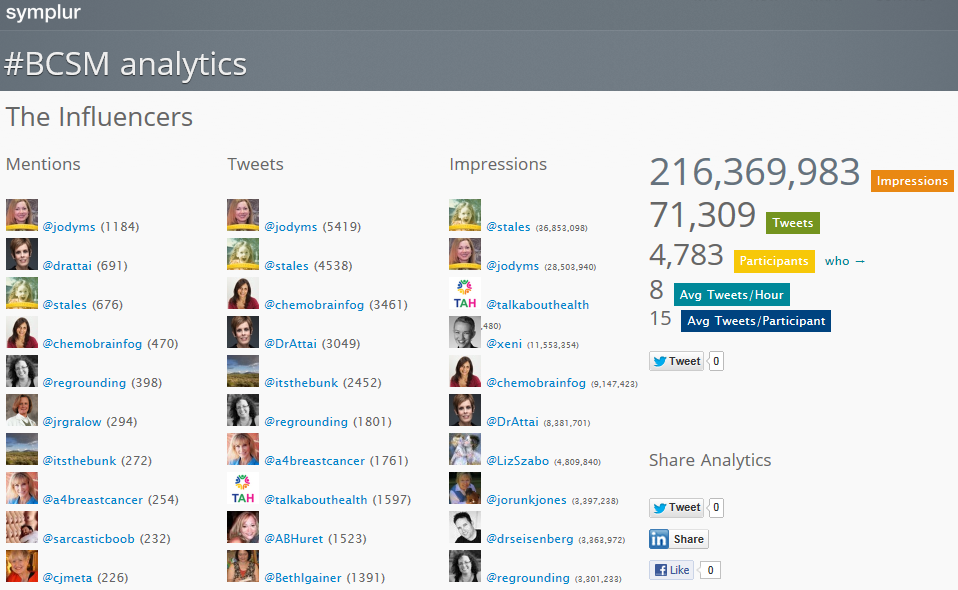 Jody Schoger summarized the group dynamic this way:
"#BCSM is true grass roots effort. It's a labor of love and commitment to the global breast cancer community. The increase in participants and their input made the website necessary. Simply put, we've grown into this. We have absolutely no intention of reinventing the breast cancer wheel or duplicating the work of other breast cancer organizations. But we have every intention of reshaping how social media can be used to empower women affected by cancer." Jody Schoger – Co-Founder of BCSMCommunity.org
No one would ever suggest that Twitter – or online communities in general – are the only channel for building successful healthcare support communities. What #BCSM does exemplify, however, is how to be open, direct and cut through the layers of healthcare bureaucracies we've spent decades building (and protecting). Ultimately, what makes these communities flourish and grow is the personal authenticity of the conversation. The new BCSMCommunity website and YouTube channel is just the logical extension in support of that primary activity – and it also happens to serve as a great example of very real "patient engagement." No EHR required.