Grand View Research, a U.S. based market research and consulting company, reported that the eHealth market growth is estimated to involve a worth of USD 308,002.9 million by 2022.
eHealth is a broader term and relates to the use of information and communication technology in the field of healthcare so as meet needs of people. It is also referred to as Electronic health or digital health, which is basically the emergence of e-commerce in healthcare and pharmaceuticals. It deals with the internet related activities that provide users with a wide variety of information electronically. The eHealth market is anticipated to witness lucrative growth driven by initiatives to promote eHealth by the government and healthcare welfare organizations. Use of advanced technology plays an important role in the expansion of the market.
The eHealth market is segmented on the basis of services, type, end-use, and region.
Factors affecting the market growth are as follows:
Growth in the Internet of Things (IoT)
Technological advancements
Rising prevalence of chronic diseases
The shift towards patient-centric healthcare delivery
Rising data privacy and cybersecurity concerns
Competitive Landscape/Innovator Analysis/Market Innovation Insights
Motion Computing Inc., Epocrates Inc., Telecare Corporation, McKinsey & Company, Medisafe, SetPoint Medical, IBM, Proteus Digital Health, Doximity, Lift labs are some of the key players in the global eHealth market. The key trend witnessed in this market includes technological advancements, new product development and collaboration to gain the competitive advantage.
For instance, in February 2015, Motion Computing Inc. launched an upgraded and powerful tablet of F5 and C5 series. The new features included higher security provided by self-encrypting option, ultra-high speed broadband provided by $G XLTE radios and remote manageability feature provided by Absolute Computrace.
Market players are continuously focusing on technological developments and innovation that is expected to fuel the market growth in the coming years. In addition, entry of new players is likely to intensify the competition in the eHealth market.
eHealth Market Scenario
According to Grand View Research, the global eHealth market was worth USD 159,371.4 million in 2017 and is expected to reach USD 308,002.9 million in 2022 growing at a compound annual growth rate (CAGR) of 15.8% over the forecast period.
The market is majorly driven by rising prevalence of chronic diseases, along with government initiatives to develop and deploy eHealth. eHealth provides round-the-clock monitoring. The advent of technologically advanced eHealth services such as self-servicing kiosk, portal technology, real-time locating and real-time monitoring assisting in faster healthcare delivery is emphasizing the market growth.
Increasing awareness about eHealth among people with the rising level of acceptance among healthcare professionals is anticipated to result in considerable growth in the market.
However, growing security concerns and rising demand for data privacy are expected to hinder the market growth. Besides, lack of infrastructure in emerging economies along with the high cost of IT health tools is expected to restrain the eHealth industry growth.
North America eHealth Market Share, By Product, 2012-2022 (USD Million)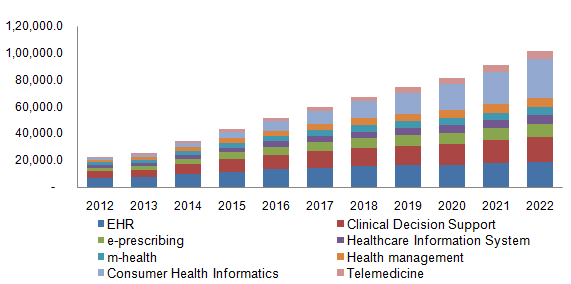 Segmentation Of The eHealth Market
The global eHealth market is segmented on the basis of product, services, end-user, and region.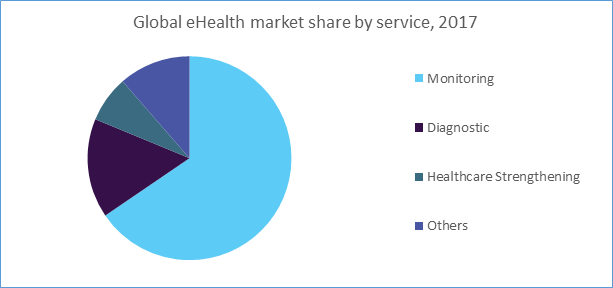 The product segment includes electronic health record (EHR), e-prescribing, clinical decision support, consumer health information, telemedicine, m-health, health management, and healthcare information system. EHR market was valued at USD 39,120.25 million in 2017 and is expected to reach USD 56,417.64 million by 2022 growing at a CAGR of 9.6% throughout the forecast period. EHR has various application in the hospitals and ambulatory surgery centers. EHR in hospital system includes recording entry, health progress record and discharge summary, history and current medical condition for deciding the treatment regimen. It also includes diagnosis and monitoring of patient. Ambulatory use of EHR includes a review of clinical standards, improved training for paramedics, designing future treatments and enhanced research alternatives for pre-hospital care. Awareness about the ambulatory use of EHR is relatively lesser owing to focus of healthcare professionals on improving processes in Hospital settings. However, with increasing awareness about the benefits, adoption of ambulatory EHR product segment is anticipated to grow in the near future.
Telemedicine is expected to gain momentum in the coming years as it helps in eliminating the distance barriers and is accessible from anywhere.  m-health also known as mobile health is the use of mobile phones and wireless devices to generate, aggregate and disseminate the information. The market size of m-health was valued at USD 25,801.17 million in 2017 growing at a CAGR 29.7% to reach a market size of USD 81,323.52 million by 2022, owing to enhanced technological developments and growth in the IoT. The growth in the m-health can be associated with the shift in the preferences of consumer attributed to an increase desire and demand for data services along with enhanced penetration of smartphones. Further, 3G and 4G enabled services that include high internet speed as well as video calls also assist in delivering healthcare services at a faster rate.
Based on services, the eHealth market is segmented into monitoring, diagnostics and healthcare strengthening systems. The monitoring services market was worth USD 102,951.5 million in 2017 and is anticipated to reach a projected value of USD 202,398.6 million by 2022 growing at an estimated CAGR of 16.2% over the forecast period. Monitoring services include vital signs, adherence monitoring, specialty services, and accessories. Among this specialty monitoring services has the highest market value of USD 60,440.6 million in 2017 and it is expected to reach USD 114,892.7 million by 2022 growing at a CAGR of 15.5% throughout the forecast period. An increased need for self-monitoring devices that robotically monitor certain physical activities as well as vital signs along with database generation is expected to fuel the eHealth market growth throughout the forecast period. Diagnosis services will likely grow immensely over the forecast period with a CAGR of 16.6%. Diagnosis services can aid patience in the diagnosis of diseases and other issues.
End-Users of eHealth can mean insurers, healthcare providers, healthcare consumers, and government. Providers had a significant share of 52.7% in 2017 owing to its convenience for healthcare pros when it comes to data management and patient workflow. On the other hand, insurers are anticipated to witness productive growth with the CAGR of 17.4% during the forecast period due to the digital efficiency and decrease in paperwork, which would allow quicker claims settlement. Initiatives to develop and deploy eHealth globally are high impact rendering drivers for the market. For instance, in 58th world health assembly, the World Health Organization (WHO) urged member states to follow below strategic actions to promote eHealth:
To develop the long-term action plan for the deployment of eHealth services in various areas of healthcare, and to develop the infrastructure for information and communication technologies with universal access
To build on closer collaboration, such as with public and private sectors, in information and communication technologies
To endeavor reach within every community with vulnerable groups with eHealth services
To establish national centers and a network of excellence for best eHealth practices
To establish and implement national electronic public health information system, which would improve the capacity of surveillance and get a rapid response to public health emergencies and disease
The regional segmentation includes North America, Asia Pacific, Latin America, Europe and Africa and Middle East. North America took the lead in eHealth with a market share of 37.5% in 2017 that can be associated with the accessibility of helpful infrastructure, like high-speed internet. Besides, supporting policies for the deployment of eHealth and the availability of infrastructure with high digital literacy are some of the factors contributing to the growth of this region in the eHealth market. In North America, U.S. tops the eHealth market with a market size of USD 52,506.8 million in 2017 growing at a CAGR of 12.8% to reach an estimated value of 88,510.8 million by 2022.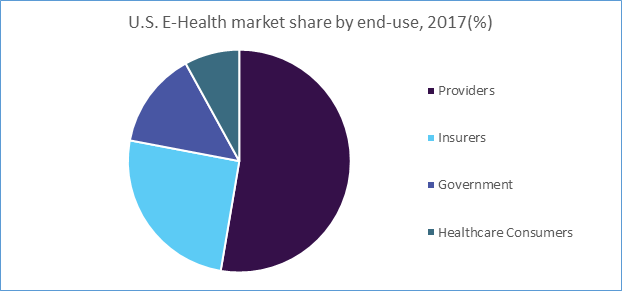 Asia Pacific is expected to witness lucrative growth with the CAGR of 19.0% during the forecast period owing to increasing government support to improve healthcare infrastructure. Existence of large population palpitation suffering from chronic disorders, and high unmet medical needs of the patient are the major factors expected to accelerate the region's growth over the forecast period.