Presenters
Justin Elliott, NA
Matthew Elrod, PT, DPT, MEd, NCS
Alan Lee, PT, PhD, DPT, CWS, GCS
Christopher Peterson, DPT
Presenters
Justin Elliott, NA
Matthew Elrod, PT, DPT, MEd, NCS
Alan Lee, PT, PhD, DPT, CWS, GCS
Christopher Peterson, DPT
Telehealth, which originated as a way to provide care to rural settings, has become an accepted, although not widely adopted, method of delivering healthcare. Benefits include convenience for patients, the ability to access specialists in other locations, and being able to monitor chronic conditions at lower costs. Advances in technology, that have put powerful microcomputers in everyone's pocket have made telehealth significantly more in demand and more feasible than ever before and as a result the telehealth market is forecasted to grow to a 4.5B market by 2018.
The good news is that telerehabilitation is part of this growing market, and people are already practicing today. The bad news is there's still a lot of confusion about reimbursement and regulation. A show of hands at the beginning of this session revealed that while 5 out of approximately 50 attendees were practicing telehealth, no one put their hand up when asked if they felt confident about the rules and regulations, and most people seemed to not be getting reiumbursed.
The goal of the session was to provide some clarity on the definition of telehealth, examples of how it is used in physical therapy, a survey of the current regulatory and reimbursement situation, and a toolkit for those who are interested in moving forward with a telehealth practice.
Telehealth communication is used in two settings, between a healthcare provider in an office and a patient at home, or between two clinical settings where one healthcare provider wants to consult with or have the patient consult with a specialist in another clinical location.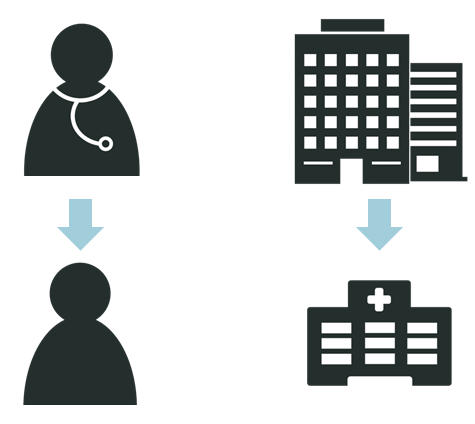 There are two types of telehealth:
Synchronous, or real-time where the two parties communicate directly via video conference.
Asynchronous, or store and forward where video, text, or voice communication is transmitted between the two parties but they do not respond to it in real time. Email, texting, and even voicemail are all forms of asynchronous communication. (Wellpepper is an example of asynchronous telehealth.)
Synchronous communication more closely resembles a typical clinic visit, as it is a dedicated and scheduled visit, with the difference being that the two parties are not in the same location. Asynchronous is better for remote patient monitoring, check-ins, and chronic disease management were the parties do not require constant face-to-face communications. In fact, one of the areas that telehealth has shown real promise is in chronic disease management, first because most of the management of chronic diseases occurs outside the clinic, and second because these patients often need access to specialists who are not local.
Telehealth should be considered a way to augment in person treatment but not replace it, especially in the musculoskeletal world where treatment is often hands-on. Follow-up treatment, home treatment plans, questions and answers, and consultations with specialists are all areas where telehealth can add value in treatment. Telehealth also provides more convenient options for patients, not just rural ones. With busy lives many patients find it difficult to get to a clinic to an in-person appointment. It can also help lower costs of care.
While telehealth has many benefits, there currently many potential blockers. For example, before embarking on a telehealth program, make sure you fully understand privacy laws. All communication needs to be encrypted, and tools like Skype, while very convenient, do not deliver the level of security required by healthcare law.
The elephant(s) in the room in the whole discussion are regulations and reimbursement. This session provided hope that these will be resolved: both the APTA and the The Federation of State Boards of Physical Therapy are working to define and eventually change the legislation to enable more widespread adoption of telehealth. Unfortunately, it seems that the change may be slower than consumer demand and certainly than innovations in technology.
Currently 21 states have private coverage legislation for telehealth billing and 11 states have Medicare billing with 6 more in proposal stage. This legislation applies to intra-state practice, that is the patient and the physical therapist are within the same state. Inter-state practice where the physical therapist and the patient are in different states is only possible if the physical therapist is licensed in the state where the patient resides. Since some of the real power of telemedicine is being able to practice across state boundaries (and possible across country boundaries in the future), we need to solve this inter-state issue.
It's not really feasible for physical therapists to get licensed in each state so that they can practice telemedicine regardless of patient location. There are two possible solutions to this problem. One is a "telemedicine license" which is a license to practice telemedicine in a particular state even if you don't reside in that state. Louisiana is a state that has this license type. The other, and more practical long-term solution is to create an interstate licensure compact. This would enable the portability of licenses from one state to another. The most common example of this is the driver's license. Your driver's license may be granted by the state of Washington but it is recognized and honored in all the other states (as well as Canada). The Federation of State Boards of Physical Therapy is leading a committee to put forward a proposal for an interstate licensure compact, and there is some discussion at the global level as well. (Nurses are much further ahead in this area, 24 states have joined a nursing licensure compact that enables nurses to be licensed in their home state and practice in any of these states, which is great for both telehealth and for portability of nursing careers.)
With respect to billing, there are billing codes for telehealth for physical therapy but they vary depending on state and by insurer. Two state practice acts, Washington and Alaska, recognize telehealth. In California, physical therapists are covered under a general assembly bill that allows for telehealth. Arizona, Kentucky, Minnesota, Nebraska, and New Mexico, list physical therapy and/or telerehabilitation services in their Medicaid policies. Perhaps the most promising change that will move telehealth forward is the new "accountable care organization" and bundled payments. With bundled payments, the organization is paid based on patient diagnosis and outcome not by the number of procedures that are provided, so there is built-in incentive to focus on the most effective and cost effective way to get a great outcome.
If you're interested in moving telehealth forward for the physical therapy profession, the APTA has a lot of great resources in their telehealth toolkit. At Wellpepper, we're very excited about the prospects and look forward to working with you on these new ways of treatment.