The press release is nearly a century old and is still thriving — for good reason. It's an effective storytelling tool when done right. If you want to get more exposure for your medical practice, use the tried-and-true press release.
The press release is nearly a century old and is still thriving — for good reason. It's an effective storytelling tool when done right. If you want to get more exposure for your medical practice, use the tried-and-true press release. If you need ideas for creating medical practice press releases that garner media attention, keep these great topical suggestions in mind.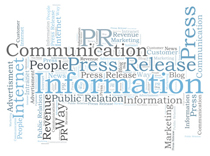 Reveal Practice Changes
Technology in the medical field is constantly evolving. If you're like most medical practices, your goal is to take advantage of the latest technology whenever possible to make the diagnosis and treatment of conditions as simple as possible.
However, no one knows your practice has access to these new technological marvels if you don't get the word out. Press releases make that happen.
Examples:
Has your dental practice recently acquired a new DIAGNOdent® laser or intraoral camera?
Has your dermatology practice purchased a new intra-epidermal laser peel for improving patient skin conditions such as acne scars, pigment problems, scars, or wrinkles?
Tip: Of course, if you want even better mileage for your press release announcements, consider including photographs or video of this technology in action along with the written content of your press release. Mashable.com reveals that including a photo in your press release increases engagement by about 14 percent. Adding video, on the other hand, doubles engagement.
Tell About Practice Milestones
Has your obstetrics practice delivered its 1,000th baby?
Have you just completed your 150th total knee replacement (TKR) surgery?
Has your vein clinic performed its 500th sclerotherapy vein procedure?
You get the picture. In other words, do you have a medical milestone you want to share with the world? Press releases are the perfect medium for sharing this exciting news.
Inform About Practice Specials/Promotions
Let the world know about free consultations or tooth whitening discounts. Are you conducting a special offer in order to, specifically, attract new patients? Do you offer seasonal promotions such as offering smoking cessation appointment discounts during the Great American Smokeout on the third Thursday of November or National Stop Smoking in October. Does your gynecological practice offer free breast exams during Breast Cancer Awareness Month? If so, spread the word with a well-timed press release.
Announce Charity Work
Whether the charity work you're doing is in your field of medicine (such as providing free dental services to those less fortunate) or simply good works (such as giving food to the local food bank) in the community, it's important to spread the word. This isn't just about "tooting" your own horn, though it does serve to remind the community that your medical practice is part of the community. It also raises awareness of needs currently underserved within your community.
Highlight Awards/Recognition Received
This is tooting your own horn, but it serves an important purpose. People within communities, large and small, like to share in the celebration of awards and successes of people within that community. They like to feel as though they are part of the award or recognition too. Letting them know your medical practice has received recognition or won an award piques interest from the community in your practice, not to mention it raises your credibility and authority as an expert in your medical specialty. Whether you were voted top chiropractor in your local community or won a top 100 dentist award in your city, don't be shy in shouting it out via a press release.
Tie in Practice Services to a New Health/Medical Study
For instance, physicians who treat patients who need to boost HDL cholesterol levels might create a press release citing a recent University of Eastern Finland study. This study discovered that increasing weekly consumption of fish, fatty fish in particular, to three or four meals per week increased the number of large HDL particles.
Create a press release that explains the study, what it means to people with low levels of HDL cholesterol, and to encourage people to come in for a cholesterol screening to see if they need to include a few more fatty fish servings in their weekly menu planning or should be on a cholesterol-lowering medicine.
While all good press releases must come to an end, it's important to end your press release with a no-nonsense call to action asking them to schedule an appointment, participate in a screening, or call your office for more information.