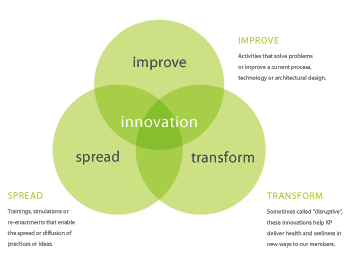 Healthcare Innovation for an Economy Built to Last
According to President Obama's recent State of the Union speech, "An economy built to last is one where we encourage the talent and ingenuity of every person in this country. It means we should support everyone who's willing to work, and every risk-taker and entrepreneur who aspires to become the next Steve Jobs." Overwhelmed by the increasingly complex, disorganized and costly system of care, healthcare organizations are creating entities to explore non-traditional solutions to a wide variety of healthcare delivery issues. Taking a cue from private industry, these organizations are embracing innovation as a means for overcoming a number of previously insurmountable obstacles. According to the California Healthcare Foundation's brief, Reinventing Health Care Delivery: Innovation and Improvement Behind the Scenes, the following is a short list of formal programs that currently exist:
Kaiser Permanente's Sidney Garfield Healthcare Innovation Center serves as a test bed for workflow improvements, floor design plans and new technologies. In addition, they host comparative analyses and live demonstrations of competing technologies and equipment for consideration. Two innovative processes emanating from this concept include the Nurse Knowledge Exchange, a comprehensive bedside protocol that facilitates information sharing at the time of shift change and KP MedRite, a systematic process for safe medication administration.
With three hospitals and 40+ physician practices in predominantly rural Pennsylvania, Geisinger Health System was an early adopter of the patient centered medical home concept. Rebranded ProvenHealth, this forward thinking entity is focusing on personal care coordination by shifting from episodic acute care to a continuous, comprehensive team-centered approach.
Massachusetts General Hospital's John D. Stoeckle Center for Primary Care Innovation develops, tests and implements improvements for their 22+ primary care practices care delivery process. Included in their arsenal is a patient decision support tool that involves viewing short videos explaining the pros and cons of various treatments. Additional efforts to increase the utility of the patient-provider interaction include development of the Ambulatory Practice of the Future which relies heavily on virtual doctor-patient visits.
Northwestern Memorial Hospital's Szollosi Healthcare Innovation Fund – borne out of a discussion between patient, Peter Szollosi, and Dr. Lyle Berkowitz, contributions to this entity are being used to improve the overall patient experience. More specifically, this small group is focused on junctures in the care continuum where significant events transpire but friction or inefficiency often undermine the process.
Vanderbilt University Medical Center

for Better Health provides a range of tools and capabilities for developing, testing and implementing new healthcare methodologies, systems and strategies. While fifty percent of the work is performed for the medical center and medical school, the remaining time is spent consulting for external clients.
Mayo Clinic Center for Innovation is using a patient-centered focus to transform the experience and delivery of health care for patients everywhere. Laser focused on three platforms, each one is centered on human needs, has a multidisciplinary team, internal and external collaborators and a diverse portfolio of projects supported by a solid business model. Specifically, they have their sights set on practice redesign, community health transformation and care at a distance.
Ascension Health Transformational Development Team – as the largest nonprofit health system with 67 hospitals and more than 500 total health care facilities, this group spends a great deal of time scanning a variety of business and industrial sectors to identify ideas, solutions and techniques that may be applicable in extending care beyond the hospital of physician's office. Borrowing from the world of high-tech start-ups, Ascension's "funnel" approach requires a project to progress through a specific set of development, validation and testing stages prior to approval. In a radical departure from traditional healthcare delivery, this group is also piloting immersion studies aimed at uncovering unique social and cultural barriers to care.
John Hopkins Center for Innovative Medicine has been creating new models of health care delivery that improve patient safety, quality and efficiency. Through the development of tools and training programs that engage health care workers—from frontline staff to top leadership—to realize radical, measurable advances in care delivery. Leveraging these experiences, the center has also helped hundreds of hospitals in the United States and around the world to develop or expand their quality and safety programs
Stanford's Clinical Excellence Research Center organizes research teams from multiple Stanford Schools to design and test new methods of health care delivery that substantially reduce population-wide disability and annual per capita health spending in the near term. Research is led by teams of post-doctoral research fellows and mentored by faculty from multiple Stanford Schools with initial emphasis on Business, Engineering and Medicine.
Founded in 1995 by Harvard Medical School teaching hospitals, the Center for Connected Health develops new strategies to move health care from the hospital and doctor's office into the day-to-day lives of patients. Leveraging information technology — cell phones, computers, networked devices and simple remote monitoring tools — the Center helps providers and patients manage chronic conditions, maintain health and wellness, and improve adherence, engagement and clinical outcomes.
A relative new entrant, Boise, Idaho's St. Luke's Center for Healthcare Innovation, has culled expertise from the payer and venture capital industry and will be focused on employing venture philanthropy models for the purpose of accelerating cutting-edge projects. By employing an approach that leads with the community and individuals, rather than an institution, the goal is to offer an opportunity for technology companies to test their wares in the real world.
Last but not least, philanthropic pioneers Gary and Mary West launched the West Health Policy Center in Washington D.C. this week. While heavily weighted towards health policy and reimbursement, two of the five focus areas do include promoting infrastructure independent care and appropriate care utilization. Hoping to act as a fellowship program, the Center intends to: 1) fund research to identify more than $100 billion in cumulative health care cost savings within ten years, 2) serve as a neutral convener between the public and private sectors, and 3) conduct educational activities with government, industry, academia and nonprofit stakeholders.
With relatively differing approaches, several common themes do remain. Innovating and evaluating effectively requires substantial investment. In addition, unnecessary duplication of efforts and inability to define/document value can derail any program. And it is only through structure and metrics that the most tenacious programs will prevail – and prosper – the goal of an economy built to last.
Principle Healthcare Associates is an expert resource and dedicated advocate for Nurse Practitioner, Physician Assistant, Physician and Healthcare Executive job seekers. With many years of recruiting experience, we deliver strategies to help clients identify diamonds in the rough and candidates stand head and shoulders above the competition.