If you operate a small healthcare facility, the question has probably crossed your mind: How can I ever compare to a ? For many, it's a difficult question to answer. Major corporate outfits have a distinct advantage of buying power much like Wal-Mart and other large corporations. Their marketing methods are at the top of the healthcare game, and their clout as a brand make them a household name for many. Some marketers of a small healthcare clinic might write the big guys' methods off as completely unattainable for their business, but here's the kicker: They're selling themselves short. Many of the best practices the large corporate players follow can easily be incorporated into any size clinic marketing plan. This post will show you how.
Invest in Your Marketing Value
Many small clinics think of their medical clinic marketing as an expense rather than an investment. According to Hubspot's latest numbers, businesses with all size marketing budgets see some return from inbound, but here's the interesting point: Even for businesses that failed at inbound marketing and didn't increase their revenue, 81% of them chose to increase their marketing spend anyway.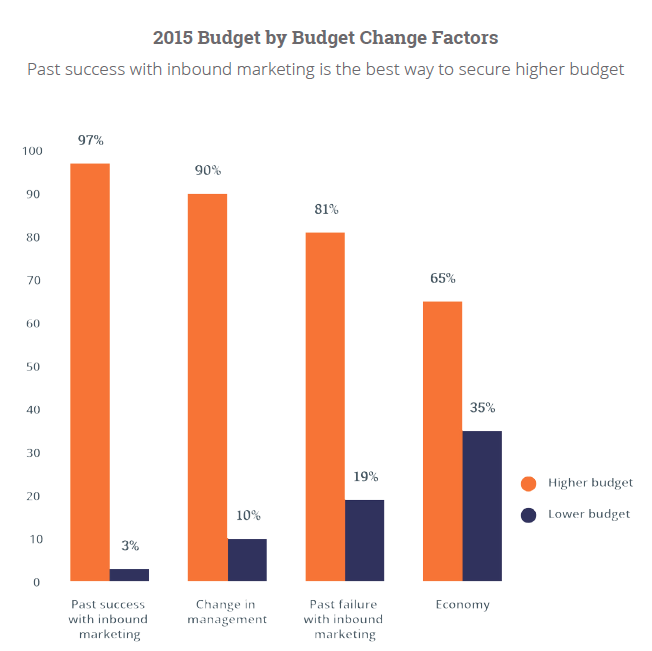 The reason? Successful businesses understand that inbound marketing is a long game. If your medical clinic marketing methods don't succeed the first time around, it's better to double down then back off your marketing spend if you want to succeed. This seems to be a philosophy that many of the big compaines embody as well. You don't have anywhere near that kind of budget, but the point is that large companies appreciate the value of making a full commitment to the marketing campaigns it does develop. If you want to measure up, make sure your marketing budget reflects the value you hope to gain from the efforts. And even if your marketing campaigns don't pay off this year, don't take that as a reason to reduce investment — this will likely only lead to an even lower ROI later on.
Keep Up With the Latest Marketing Channels
Major health systems have been around for a long time, but their marketing tactics are far from old-school. To become and stay relevant with your target audience on the same scale, you need to be constantly looking for new ways to conduct your small clinic marketing based on your audience's needs and expectations. For example, recent FICO data has shown that 80% of people want to be able to use their smartphones to communicate with their healthcare providers. That's why best-in-class health systems are taking advantage of mobile marketing and providing services through this avenue. Major healthcare even developed their own apps to help patients manage their healthcare needs. They also have a clear understanding of how people have changed the way they feel about traditional advertising. Despite so much marketing effort poured into banner ads, commercials and the like, only 47 percent of consumers trust traditional advertisements today. It's data like this that has given rise to content marketing, where brands develop valuable content that helps and informs their audience, as opposed to overtly promoting their business. Many do this well with their series of blogs, as well as numerous case studies and reports that offer value to their audience by helping them stay informed about health matters: So if you want to draw new patients the way the large companies do, content marketing is a must for your clinic marketing plan. In fact, it's more or less mandatory in an age where everyone takes advertisements with a grain of salt.
Have a Strong Social Media Presence
Just as consumers are paying less and less attention to what brands have to say about themselves, they're also keeping a close eye on what their peers and high authority individuals have to say instead. According to Nielsen's Global Trust in Advertising Survey, 92% of consumers trust opinions that come from other people they know. And many are turning to social media to get advice. Your small clinic marketing should be using social media to garner social proof from others — consumers will often use these platforms to praise brands as well as air their complaints. This is an activity you can't ignore. Not only can you incorporate positive feedback into your brand image, but you can also use social media as a way to publically display excellent customer service by solving the issues of anyone who does offer negative feedback. Want to know the best part about using a Twitter profile as an avenue for offering public customer service? Social media also gives your clinic the opportunity to develop and promote content that comes from high authority individuals, not necessarily your brand. Gain support from your doctors and nurses and work with them to develop expert content that social media users will trust for your small healthcare clinic. It might seem like a difficult task because clinic staff are busy people, but you'd be surprised at how a little help from them can go a long way for your social media marketing efforts. Eighty-seven percent of doctors under the age of 56 see social media as an extension of their job, so they're ready for it.
Play to Your Strengths with SEO
a global traffic rank of #2,005, a Pagerank of 7/10 and an estimated worth of $47,123,055. You can be sure it's not just one "SEO guru" making all this happen for major healthcare — they have a huge team of marketing experts specializing in the digital sphere. Here's the deal: It might not be possible to position your clinic's website to garner nearly 90,000 daily unique visitors, but there are some tactics you can use to rank incredibly well with a much smaller budget. And it gets better: You have an SEO advantage over big healthcare systems, who are trying to market to people all around the country. As a small healthcare clinic, you have a very target audience: Local people. Take advantage of local SEO tactics as part of your small clinic marketing to get your pages ranking just as well as the big guys for the most relevant search terms. Instead of spending your time competing for highly competitive healthcare keywords, focus on ranking for keywords that relate to people's healthcare needs in your region, such as:
City and state

Zip code

Neighborhood

Colloquial terms related to your town
Don't waste your time trying and failing to compete with large health networks who have massive marketing budgets at their fingertips; play to your strengths by trying to rank for the same terms in your particular region. Keep up with all local SEO best practices for your small clinic marketing and you can end up in the Google Local 3-pack, which appears before the first organic result in search.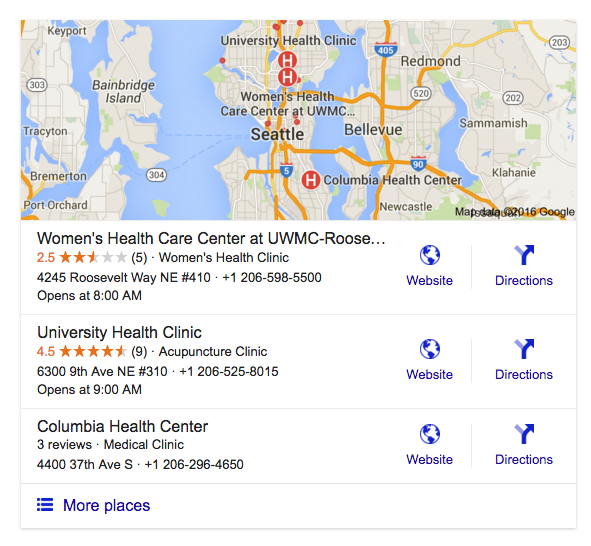 Establish Purpose and Trust
Looking beyond specific marketing practices you can employ to measure up to the likes of big corporations; there are some core goals of the organization that you should pay attention to because they help drive so much growth in the industry. Even if you have a just a small clinic, make the effort to develop a clear purpose that you continuously infuse into your brand messaging. This tactic will drive the kind of trust that garners more loyal customers year after year. And here's the good news: It's relatively easy task to incorporate this messaging into your SEO, social media, and other marketing channels. The IMS Institute for Healthcare Informatics reports that 40% of healthcare advice found online is from social media. So people are listening on the platforms you're already using.
Overall: Learn from Your Competitors
Marketing in the digital age has become an ever-changing playing field. New technologies are invented, and techniques are discovered every year that can give a small healthcare clinic an upper hand if they're paying close attention to the changes. Monitoring the marketing efforts of your competitors through a simple competitive auditing analysis or keeping track of their social profiles will help keep you up to date on their latest tactics. You can even use helpful comparative analysis tools like Compete to get the job done.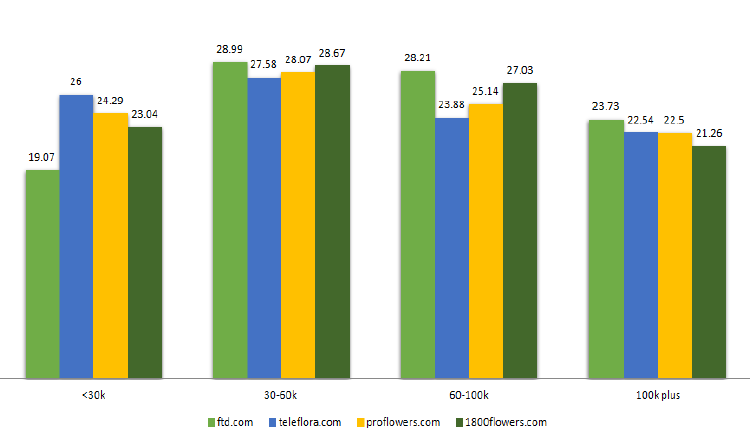 This knowledge can help inform your efforts, but here's what you should keep in mind: If you want to ever become better than the best in your area, you'll need to learn from other successful health service systems with the resources to be key innovators in the industry. Large healthcare providers may never become direct competition for your small healthcare clinic, but you can still make a lot of progress by monitoring their marketing tactics and implementing some of their best practices into your efforts on a local level.
Conclusion
Look for ways to set your clinic apart from local competitors by learning from some of the most successful healthcare marketers out there, and incorporating similar tactics into your small clinic marketing. Think of all of this as competing with them – but on your level. Stick with your marketing game plan and it will pay off in the long run.