(Editor's Note: Dan Munro writes for Forbes under the heading, HealthCare Compass)
(Editor's Note: Dan Munro writes for Forbes under the heading, HealthCare Compass)
Lots of speculation lately about the acquisition roadmap ahead for Google GOOG -0.1% – including 5 pretty good reasons why they might buy Jawbone by Simons Chase (from May here). Simons summary version is this:
1. Jawbone's recent acquisitions (including BodyMedia for more than $100M) make it the largest company in the wearable+fitness+health space with 300 patents, tech talent accumulated through acquisition and years of experience with designing and selling wearables.
2. The opportunity in fitness and monitoring is large and fast growing – but there is a bigger opportunity to impact global health in the long term. (cites Credit Suisse report – with coverage here)
3. Kleiner is motivated for a big exit in a trendy space.
4. Jawbone could enhance Google's mobile and cloud strategy.
5. Google's philosophy is to organize the world's data and do no harm.
Numbers 1-3 make good sense, but 4 and 5 – at least to me – are still a tad fuzzy. For one thing, Google's "Do No Harm" strategy was slightly derailed about 2 years ago when they settled with the Department of Justice to the tune of $500M. The infractions involved the use of AdWords for promoting offshore pharmacies to sell prescription drugs here in the U.S. We definitely need lower cost prescriptions (Google's logical intent), but not at the expense of unlicensed pharmacy's that could (potentially) sell counterfeit or fake drugs. Something I wrote about at the time of the settlement (here). Hey, (relatively) small fine, no jail time – onward and upward.
One of the more recent innovations by the GOOG has been Glass – and the healthcare implications are both intriguing and significant – even if they're (as yet) largely unrealized. Recognizing the potential healthcare opportunities around Glass, Qualcomm QCOM -0.39% healthcare subsidiary QualcommLife and Palomar Health just announced an incubator (calledGlassomics) focused exclusively around the intersection of Glass and Healthcare.
One glaring problem with Glass has been the design – which has already prompted the worldwide meme of Glasshole (with linguistic explanation courtesy of The Atlantic Wire here) and, of course, the now classic treatment by Saturday Night Live (here). One look at some of the first pictures and it's easy to see why. Nothing quite screams pure fashionista faux-pas like uber tech geek Robert Scoble in the shower or a surgeon in scrubs donning Le Glass.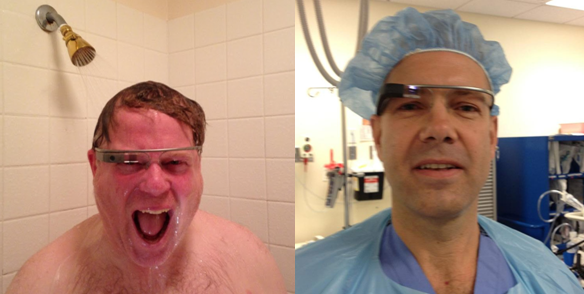 But design is readily fixable – and we got a first glimpse of what that might look like earlier this week from design firm Sourcebits. The team at Sourcebits reimagined Glass (here) with a decidedly Warby Parker (or maybe even more classic Ray Ban 'Wayfarer') design.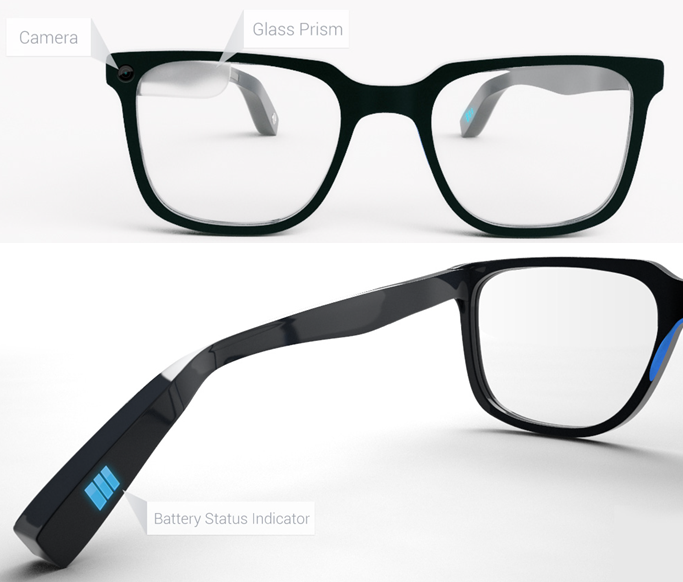 According to a New York Times piece in February (here), Google is in active discussions with Warby Parker for the express purpose of Glass design. Even though there's been no official announcement, Apple AAPL +0.21% iWatch is already assumed, but at least to this point – Glass is the relatively greenfield opportunity that is pure Google.
Wearable tech in every form will play an important role in the evolution of what some call "ubiquitous computing" (or ubicomp), and what Cisco calls "the internet of everything (IoE)." As a full-fledged business unit within Cisco, the commitment to IoE is significant (about 500 people and an R&D budget of $200 million a year).
Given the invisible nature of wearable tech, the healthcare opportunities are compelling. It's also why the competition for wearable between the two tech titans of Google and Apple will focus around design. Google's design hasn't really rivaled (or closely threatened) Apple which is why Google needs the design sensibility of companies like Warby Parker – and Jawbone – in that order.
In both cases, Warby Parker and Jawbone, it's the seamless marriage between hardware and technology that makes the user experience less of an action – and more of a simple extension into the very fabric of our lives. One of the largest and most colorful threads in that fabric has always been and will always be our health.