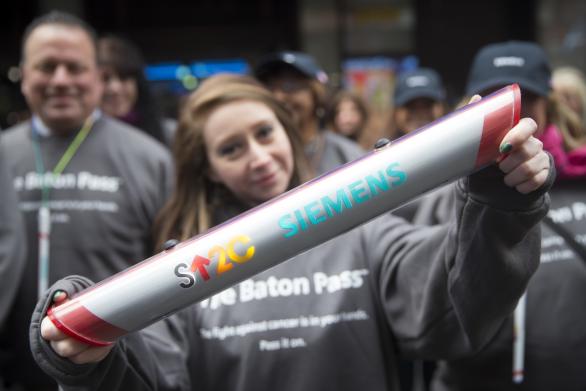 Passing Hope in the Form of a Baton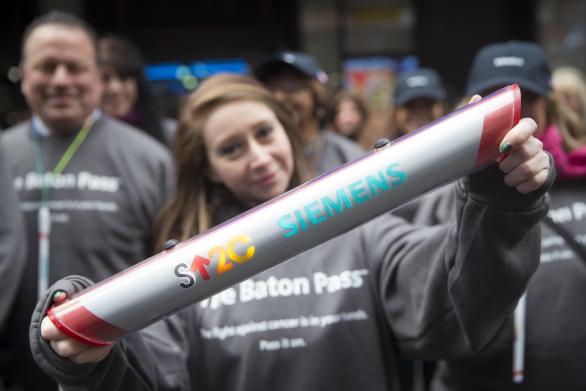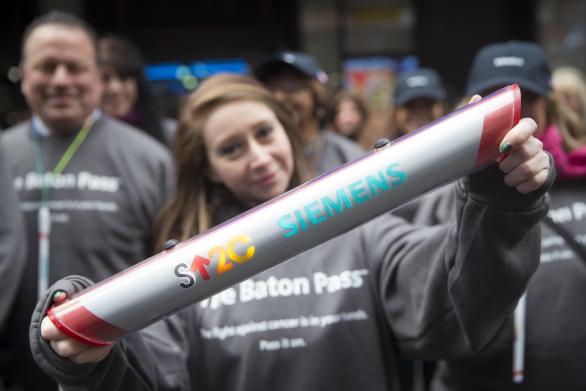 March 19th marked the national kick-off of The Baton Pass, a grassroots fundraising campaign launched jointly by Siemens and Stand Up To Cancer, a program of the Entertainment Industry Foundation (EIF), to support its innovative cancer research. The centerpiece of the campaign is a plexiglass baton equipped with GPS, multi-colored lights and an internal counter that tracks when it is passed from one person to the next.
Declining government support for medical research has spurred Siemens and SU2C to take action. Each time the baton is passed between March 19 and September 5, Siemens will donate $1 to SU2C, up to $1 million. The Baton can also be passed virtually through the campaign's Facebook app, and followed on Twitter using the hashtag #TheBatonPass. CEO of Siemens Healthcare North America, Gregory Sorensen, MD, says the baton symbolizes hope passing from person to person.
For its inaugural passing, the baton visited the studio of "Good Morning America" in Times Square. Co-host Robin Roberts, a cancer survivor, joined a group of Siemens survivors in a baton relay—a "human chain"—that traced from the studio into Times Square. The baton was passed finally to Sorensen, who jumped into a cab and brought it to its next location, the pediatric oncology unit of NewYork-Presbyterian Hospital. Above their heads, a simulcast of "The Baton Pass" appeared on the large screens above Times Square, and also in 6,000 taxi cabs around the city.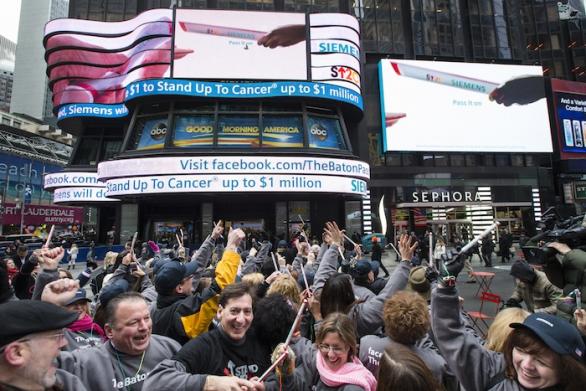 Linda Fresco-Koslowski, an executive assistant at Siemens, who was among the team with their matching sweatshirts that read "Pass the Baton," joined that morning on behalf of her brother-in-law and her sister, who both battled cancer. "My hope," she said, "is that there will be a cure for the next generation."
At NewYork-Presbyterian, the baton was presented to patients and their families. Kathleen Lobb, cofounder of SU2C, spoke about the "dream teams" of researchers her organization pairs in the hope of accelerating new treatments. The dream teams include "PI3K," which targets women's cancers, and groups devoted to pancreatic and breast cancer, among others. "This is a hopeful moment in terms of cancer research," Lobb said.
Lobb introduced Dr. Adolfo Ferrando, a researcher at Columbia University Medical Center and SU2C grant recipient who is working to find better treatments for acute lymphoblastic leukemia, the most frequent cancer in children. He commended SU2C for allowing researchers to be to take risks, which is necessary, he said, "if we really want to accomplish transformative research."
The event was capped off with an appearance by Spider-Man, who passed the baton among the crowd, and led the promise to remember the superhero oath: "With great power comes great responsibility."
The campaign's final stop was the American Cancer Society's "Hope Lodge" in New York, a facility that offers a free stay to patients and caregivers who are traveling to the city to receive their cancer treatments. The center offers sixty guest rooms and peaceful communal spaces, such as a meditation room and a large, bright kitchen that hosts regular "tea time" gatherings. After speeches from Sorensen, Lobb, and Hope Lodge director Karen Radwin, the baton was passed once more around the crowd at the center, where it was to stay overnight.
At all events, what the campaign organizers emphasized repeatedly was the importance of community in the fight against cancer. "Nobody should have to stand up to cancer alone," Lobb said. Dr. Sorensen described the dual link between technology and community, which both lead the way in cancer research, of which Siemens, with its medical technology that has been integral in early detection, is a part. "That's our goal," Sorensen said. "To share the knowledge, and spread the knowledge—from one person to another."
—
(John Minchillo/AP Images for Siemens)
AP