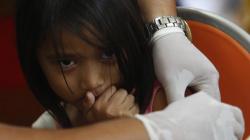 While the death count rises to 5,209 in east-central Philippines, the country's government estimates th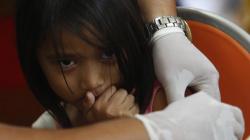 While the death count rises to 5,209 in east-central Philippines, the country's government estimates that at least 4.3 million people have been forced from their homes in the aftermath of Super Typhoon Haiyan. Considering just how large this newly vulnerable population is, it comes as no surprise that infectious diseases, including pneumonia, have begun to make themselves known in the region.
This past week, a team representing Doctors Without Borders reported the most serious medical cases so far have been people with injuries directly caused by the typhoon, including those requiring minor surgery for head wounds and broken bones. "There are also children with gastrointestinal infections and diarrhea, almost certainly from drinking dirty water, which is all that's been available," the international organization said. Certainly the main problem is that many people are living in exposed, raw, and wet conditions. Although the "lucky few," — roughly 361,167 individuals — have taken up residence in emergency shelters, the remaining millions of displaced people live, as the Philippine government reports, "outside evacuation centers." Such conditions are largely unknown but would include living in makeshift huts and under tarpaulins. Neither could possibly protect individuals from the constant rain, chilly breezes, and alternating heat — the current climate conditions affecting the region.
"All of our medical teams are on the lookout for the very dangerous diseases that are endemic in the area — typhoid, schistosomiasis, cholera, and leptospirosis," Doctors Without Borders reported. "The worry is that the conditions people are living in as a result of the disaster might trigger an outbreak." All of the mentioned illnesses are spread through food and water that has been contaminated with bacteria or parasites, and all are a particular threat to children. Doctors working in Guiuan, a municipality located at the southernmost tip of Samar Island, have also raised concerns about the possibility of aggravated respiratory tract infections, including pneumonia.
Pneumonia inflames the air sacs in one or both lungs causing them to fill with fluid or pus, which results in a cough with phlegm or pus, fever, chills, and difficulty breathing. Although antibiotics and antiviral medications can treat most common forms, pneumonia can range from mild to life-threatening in seriousness. Caused by a variety of organisms, including bacteria, viruses, and fungi, those most vulnerable include infants and young children, people over the age of 65, and people with weakened immune systems.
Meanwhile, the World Health Organization (WHO) and the Philippine Department of Health have launched a joint vaccination campaign to prevent outbreaks of measles and polio among the survivors. "Large numbers of non- or under-vaccinated children are at risk of contracting and spreading infectious diseases such as measles – particularly in congested areas where the homeless are now living," Dr. Julie Hall, WHO representative in the Philippines, stated in a press release. "Measles can be deadly, especially in young children."
In addition to its vaccination work, WHO has also been coordinating foreign medical teams in the region. According to the United Nation's agency, 22 international medical teams are operating in the Philippines in three regions, as of November 19, while another 12 teams are either under or awaiting deployment. Another 31 national teams are also working across the affected area.
"There are not enough words to express my own personal appreciation for this tremendous support that we are receiving," Philippine Secretary of Health Dr Enrique Ona told WHO.
(photo: Reuters)