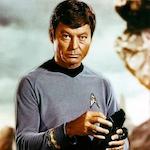 The Real Medical Tricorder: When Science and Fiction Collide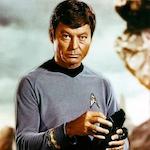 Just the other day, the esteemed Doctor Leonard McCoy * was telling me that medical tricorders—the TR-560 or other models—have been common Starfleet equipment as early as the 22nd centu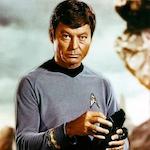 Just the other day, the esteemed Doctor Leonard McCoy * was telling me that medical tricorders—the TR-560 or other models—have been common Starfleet equipment as early as the 22nd century. "The anachronistic and crudely elementary stethoscope," Dr. McCoy grumbled, "will rarely be found outside of a few private collections."
We're reluctant to contradict a respected (if fictional) physician, but the real-world equivalent of Bones' "medical tricorder" is tracking a much faster event horizon. Medical monitoring devices already exist and are growing in popularity with the consumer public.
Increasingly, hand-held Star Trek-like gadgets will likely be standard issue in physician offices. What's more, the already-active, and quite real, marketplace will shift into high gear as device manufacturers and new players (such as Apple) rush to the transporter room for both consumers and medical professionals. Half of mobile health app users are using fitness apps, according Mobihealthnews.
Brand-name, wearable "fitness band" devices are gaining traction with consumers to monitor, record and report such things as the individual's activity, heart rate, distance traveled, calories earned and burned, blood pressure, sleep cycles and other data. Current players, including Fitbit, Jawbone UP and Nike Plus, and others, have stylish products.
Parks Associates' report, Digitally Fit: Healthy Living and Connected Devices, "analyzes the use of digital health and wellness technologies, including online services, smartphone and tablet apps, and stand-alone digital devices. It provides detailed profiles of the consumers using these technologies down to the level of specific apps and device categories."
In their findings, "A robust market is emerging for digital devices and services that help consumers stay healthy. The core of it is young consumers who are comfortable with technology and want to leverage technology for diet, exercise, and other health activities."
Future Watch: Physicians Prescribe Tricorders (before 22nd Century)?
Apple, the personal computing device giant, is characteristically silent about its future product development but industry observers foresee Apple expanding into the health monitoring medical device arena. [New York Times and San Francisco Chronicle] Many of the current crop of gadgets do their reporting via smartphone apps.
Consumer gadgets are one thing, but on the medical/professional level, the X PRIZE Foundation and Qualcomm have sponsored the ongoing "Tricorder X PRIZE, a $10 million prize to develop a mobile solution that can diagnose patients better than or equal to a panel of board certified physicians."
It's no stretch of the near-future imagination to think of doctors and medical practitioners (a) prescribing or even selling medical monitoring equipment or services, and/or (b) rapidly adopting and using advanced, professional-grade diagnostic techno tools. (Hello tricorder, so long stethoscope.)