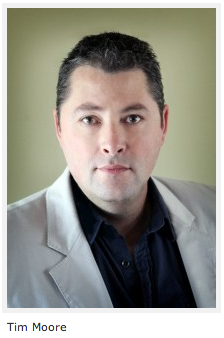 (Editor's Note: John Nosta writes for Forbes)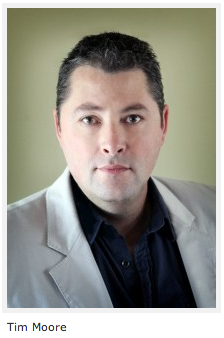 (Editor's Note: John Nosta writes for Forbes)
STAT Ten is intended to give a voice to those in digital health. From those resonant voices in the headlines to quiet innovators and thinkers behind the scenes, it's my intent to feature those individuals who are driving innovation–in both thought and deed. And while it's not an exhaustive interview, STAT Ten asks 10 quick questions to give this individual a chance to be heard. Tim Moore is an American digital marketing executive with a simple mantra, "Relationships, not rules." He believes that technology should never become an obstacle to this. He is an emerging thought leader as founder and mobile / wearable technologist at Venture Glass. Tim believes in transparency and invites all to keep in touch with on Google+ and Twitter.
1. "Wearable Technology" – just a pipe dream really?
It's early for sure for mainstream wearable technology here in the U.S., but it's not new. Companies (IBM, Qualcomm, ) have been experimenting with sensors, headsets,cognitive technology, biocomputing, AI, and smart bands specifically for health care for years. In fact, in the UK, companies like Ikanos have wearable solutions already on market. Here in the U.S., the availability of Google Glass and smart watches has simply thrust wearable into the mainstream conversation and has opened up the topic of "what could we do" that is very exciting. There are already operating wearable technology incubators today. So, no, this isn't a dream or the future, it's now.
2. What are the benefits of wearable technology in digital health?
The very nature of wearable technology, "hands-free", possesses the benefits. The caregiver doesn't have to take his eyes or hands off of the patient to provide care, input information, maximizing their access to patient or subject information, and minimizing distraction. I've interviewed numerous first responders, EMS/EMT's, nurses and doctors and they all see a huge opportunity here and each of them have a particular set of unique needs that contribute to the entire healthcare eco system.
3. What will be the biggest benefit to the consumer / patient?
During my interviews, I've heard the same thing repeated different ways from the health providers, "this will save so much time". As long as that bought out time isn't filled with more patients but focused on customer care, the biggest benefit would be shorter wait times for your doctor, a connected 'smart-hospital' (like Palomar Medical Center in San Diego, CA CA +0.31%) which will designed to expedite your medical visits for more face time with your doctor, less clerical items, and on overall improvement in your experience.
4. Will patients need a device to more effectively communicate with a healthcare professional?
No, that is the beauty of this for the patient. They are coming to get care and feel better. The digital healthcare providers will have the tools to make this easier for the patient. This is an area that drastically needs help btw, medical records need to be secure and confidential, but accessible to those giving us timely, often life-saving care.
5. I'm worried about the hype. Are the media–and people like me on social media–making too much of digital health?
Perhaps a little. This is going to phase into our lives rather than one giant step. While the opportunity and capabilities are appealing and reachable, there is a lot of R&D that needs done to make the initial transformation simple and minimize disruption as much as possible. There is also a cost involved here that I hope some companies will come on board and support that so that this isn't passed on to the consumer in raising coverage. So far, it's great to see funding being made available for research and design, I hope this continues to grow because there is a lot of work to do. We are just getting started and the possibilities are endless.
6. In your experience, do physicians embrace this change or is there an impediment to this evolution that is beyond technology?
Most of the young physicians get it and welcome it. Some of the older physicians have a full practice or a way of doing things that they don't want to be involved. Not all are like that, but we have to be honest about this, some are just not going to want to be involved with it until all the fanfare has subsided and the learning curve is very small.
7. What encourages you that wearable technology and digital health exemplify the future?
Quite a few things actually.
The two areas that are most promising directly are your doctor having access to your medical records immediately in serious situations and the use of wearable messaging across your healthcare team when in the hospital for surgery or treatment. Incubators like Glassomics and Augmedix, just to name a couple, are already working on these things and it's exciting to see.
8. What are some "bold and aggressive" predictions that will catch our readers off guard?
While Google GOOG +1.31% Glass is getting a lot of press, it is not the answer. It's a beginning. Look for dry sensors and cognitive brainware to be able to do two things: Give doctors insights and map out care from our thoughts, and to help the disabled and those with other incapacities the ability to express themselves and have productive lives. Companies like Emotiv excite me, and this is just a beginning. Over the next 2-3 years, we will be able to do things that we aren't even imagining today.
9. We read a lot about these efforts, but what could be done to facilitate these getting into healthcare practitioners hands faster?
Evolution takes time and patience is needed. At the same time, with some muscle behind this in a concentrated effort, the R&D curve could be trimmed and we could see these devices, applications and conduits in place much sooner rather than later.
10. How has "wearable technology" and digital health impacted you personally? Do you currently use any device?
I was recently in the hospital for some surgery, and it was amazing to see how tethered my nurses were to the computer and scanner (for my wristband). Often they would be typing in information while talking to me, which is what they are supposed to do. The care was fantastic, it just seemed like the technology was an obstacle to better care and more patient focus. I'm a Glass Explorer for Google and I was thinking the whole 3 days I was in the hospital, "we need a better way". Although we are making strides, we have a long way to go. I'm glad to be in this field and doing my part, it's an important topic and as a technologist, the most valuable one I can spend my time on.