John Nosta writes for Forbes.com
Meet Grant Verstandig, CEO of digital health startup Audax Health. Grant started the company after a series of injuries left him uncertain about where or who to turn to for more information on his condition. He saw a need for a more personalized online health platform.
John Nosta writes for Forbes.com
Meet Grant Verstandig, CEO of digital health startup Audax Health. Grant started the company after a series of injuries left him uncertain about where or who to turn to for more information on his condition. He saw a need for a more personalized online health platform.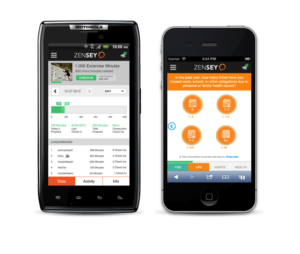 Now enter Zensey. Audax Health's flagship web-based product is designed to motivate and empower people to lead healthier lifestyles, while providing them with information on various conditions and access to health experts and online coaches in between annual doctor visits. Zensey allows users to connect and compete with others like them, track progress towards goals, access health data, obtain expert coaching and earn rewards with the objective of generating healthier behaviors and preventing future illness.
Audax Health is bringing Zensey to health insurance providers and employers in partnerships aimed at getting consumers more actively engaged in their health. It's an interesting shift in audience targeting, so I asked Grant a few questions about the new direction and what it means for the digital health industry:
How are the rapid changes in the health care industry shaping what you do? And what makes Audax Health different from the many other start-ups tackling health care?
Health care reform is opening the door for companies like Audax Health to disrupt this notion of patient engagement. With the inception of the Affordable Care Act, hospitals, insurance providers, clinics, etc. are now being held more accountable for what happens to patients once they leave the doctor's office. After spending years focused on improving e-health records, work flow management and more, the health care system is challenged to leverage technology to improve the lives outside of the care provider's walls to reach the population when they are sick, but also when they are well.
Most digital health companies are focused strictly on the consumer – enabling them to track anything from their workout to their blood pressure. Audax Health is working in partnership with every stakeholder within the health continuum from patients and providers to employers and health insurance companies. We partner with insurance providers, building upon the tools and services they already have by making them more personalized and social for each user. The way we see it – people are empowered by a more personalized health experience and not something that is one-size fits all.
Why is it so important for the health care industry to embrace digital technologies?
Technology has shifted the way we consume and interact in every aspect of our lives, but health care is lagging behind. The technology that has been adopted produces ample health data but, it's held so tightly under lock and key that it makes it difficult for people to simply access their own health records. We need more transparency and accessibility into that health data. Digital technology is the solution – creating one place for users to find health records, data from tracking devices and information that can be used to aid them on a path to a healthier lifestyle.
It's also all about meeting people where they are – 79 percent of smartphone users have their phones with them 22 hours a day and are spending upwards of an hour and twenty minutes using social media. Meanwhile, the health care industry is still sending out snail mail to get people excited and engaged with their health which, needless to say, is not working.
How is Audax Health partnering with Insurance providers and what do they and their customers get out of this partnership?
It's all about unlocking the data and opening the lines of communications in a way that is not only more personal, but user-friendly. We're adding value by helping insurance companies leverage the data they have, pairing it with content end-users provide, and making that information available to offer a clearer picture of one's health. Zensey is helping to bridge the gap between patients, doctors and insurance providers through an engaging platform that consumers can easily use and that rewards them with lower premiums and discounts for making changes and engaging in healthy behaviors.
How is your product different from what health insurance providers are already creating for their customers?
Engagement is what is missing from many of the existing "digital tools" used by insurers. Yes, they have an online portal where I can look up doctors within a 25-mile radius, but it's lacking the element of engagement which influences patient outcomes. Right now, there is no place that ties all of the assets into a member portal to highlight one's real-time needs, Zensey will be that one-stop-shop. We're helping insurance providers repurpose their tools – building upon the assets they have by adding personalization and social features to create a more useful and engaging platform.
One example of this is Zensey's coaching feature and our partnership withCigna CI +2.36%. Cigna offers its members health coaching, but the only way of communicating is via phone. With Zensey, users are able to receive coaching from certified experts through the platform alongside all other aspects of health management.
But how do you engage a person on a health issue that is very personal and private? Is it working?
We're compliant with the Healthcare Information Portability and Accountability Act (HIPAA) from the ground-up. Zensey is private to begin with, but then we allow users to opt-in to experiences and conversations rather than forcing them to be a part of what others are doing and discussing. We feel this model makes people feel more comfortable and safe about sharing something that is very personal.
When we piloted Zensey with a Fortune 100 company's employees – many users shared information about their body mass index (BMI) and inquired about how to best work out and get fit. Now, imagine an insurance provider calling and asking a person to share their BMI. I guarantee that method wouldn't get a single response. We don't want to force users to tell us about themselves, our goal is to make them feel comfortable in sharing to better elicit healthier behaviors.
Why is social the answer? How does it help solve long term problems with the individual and the industry?
With social, we're able to get a front-row seat to other people's experiences, understand an individual's intrinsic motivation and have thoughtful conversations in real-time. When applying social to health – and capturing the data it produces – it is so much more valuable than impersonal surveys or forms. For the consumer, there's also a level of accountability through peer-sharing and observed behavior. It's easy to backtrack on your goals when going through those experiences alone, but by sharing with peers we're often more inclined to follow through on our goals.
As for the industry, social also allows insurance providers more insight into the evolving health status of its customers as it happens, we see tremendously higher re-engagement when users compete and share their goals with each other. For years, health insurance providers have been searching for a way to get more up-to-date information on the health and wellness of their customers. What is more current than a social news feed? Based on the data collected through a social solution like Zensey, insurance providers can better understand their customers' needs and, in turn, adapt their health plans so that they are more beneficial and less costly for those customers.
What is next for Audax Health?
With our recent $20 million Series B raise, tech and mobile veteran David Ko joining our board and a new partnership with Florida Blue, we have a lot going on this fall and into the New Year. We're working on new features and preparing to launch multiple mobile apps, establishing new partnerships with payers and providers and growing our teams in both our DC and San Francisco offices as we continue our mission of better health and a better health system. All I can really say is: stay tuned!