Boasting over 1 billion active users, Facebook is one of the most popular social networks today. Businesses have been active on the platform since the beginning, but with more than 18 million business pages competing for space on Facebook, it has become harder to get noticed. Combine these numbers with a decline in organic reach (the number of people who saw any content about your Page in their News Feed) and it adds up to a rising trend in paid promotion. So should you "pay to play"? The answer is "it depends". If your audience are on Facebook and you have noticed a decline in reach, it may make sense for you to invest in Facebook advertising to drive more engagement. If you are not sure where to start, then this week's Beyond The Buzz is for you. I will take you step-by-step through the process of creating a winning Facebook ad campaign that maximises your spend.
There are two options for creating ads on Facebook – the Ads Creation interface, or the more advanced Power Editor, a free browser plugin which offers advanced features. If you are serious about advertising on Facebook, you will want to use its Power Editor tool, but for now let's start with the basic ads creator tool.
Step #1 Set Up Your Account
Open Ads Manager and click on Settings. You can access this directly from your Facebook page or from your Insights page. You will see a unique Account ID number has already been created for you but you also have the option of adding a name to your account (like the name of your business) which can be useful if you are managing multiple accounts. Fill in the required information and hit Save.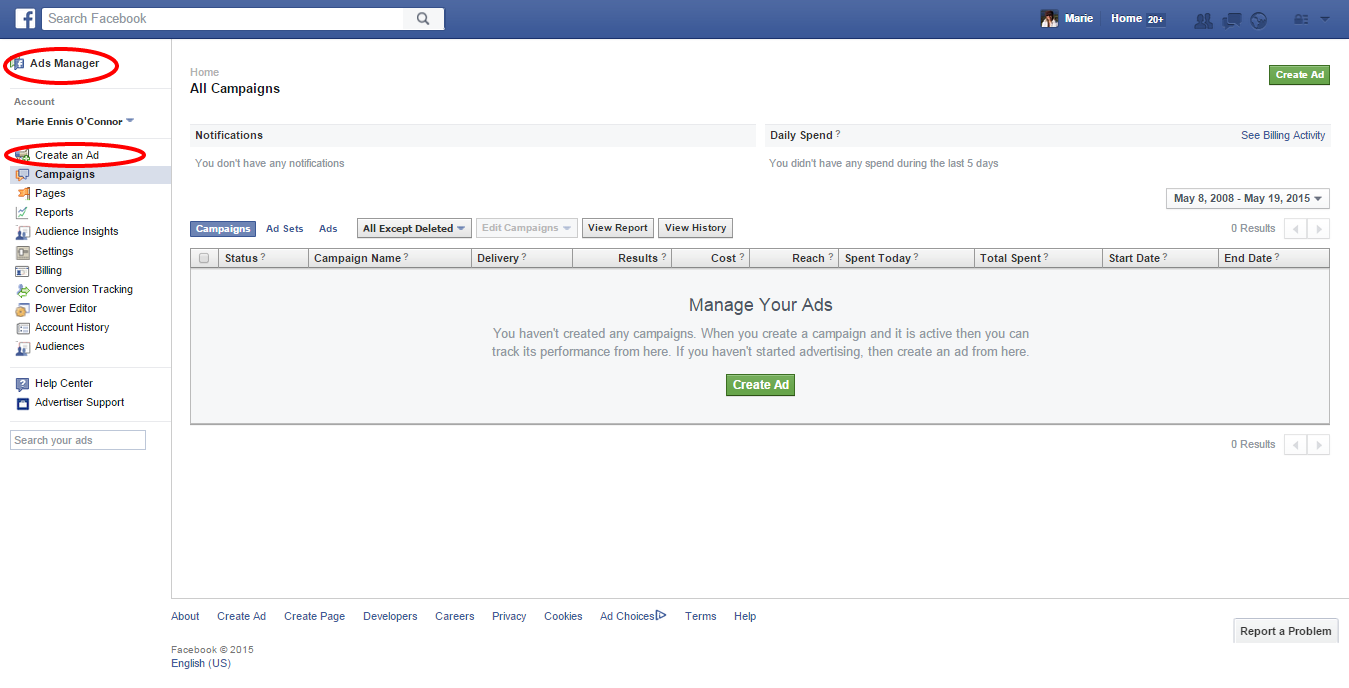 Next open the Billing Information tab and add your preferred payment method – either a PayPal account or credit card – designating a primary and secondary source of payment. From here you can also manage your account spend limit (which limits the total amount of money that can be spent for your account). Finally, click on Account Settings to decide on the frequency of email notifications you wish to receive on your advertising campaigns.
You are now ready to create your first Facebook ad campaign!
Step #2 Determine Your Advertising Objective
Before you create an advertising campaign, you need to determine your objective. Do you want to drive more traffic to your website? Do you want more people to visit a specific landing page, buy a product, or sign up for an offer? Do you want people to make an appointment at your office? Or are you simply aiming to increase the number of likes and engagement on your Facebook page? Choose a goal from the list below that matches your advertising goal.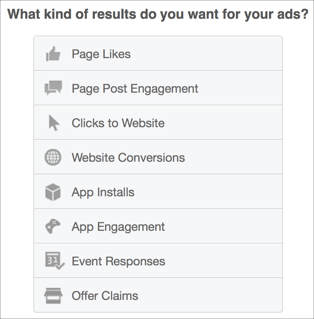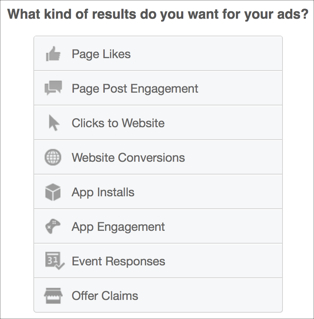 What happens if you have more than one advertising goal? You may have several objectives, from driving more traffic to your website, to promoting special offers. In this instance you'll create a campaign for each objective. In 2014 Facebook rolled out a new campaign structure (illustrated below) consisting of three levels: campaigns, ad sets and ads.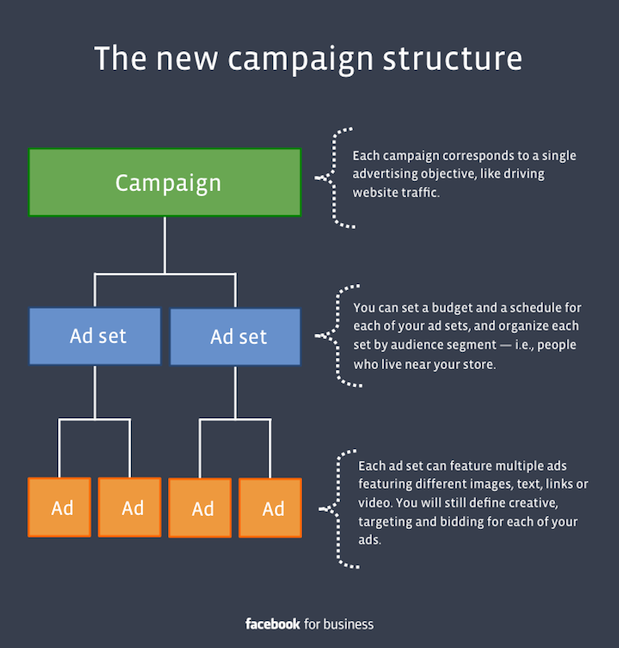 Campaigns correspond to each of your advertising objectives, like building brand awareness or driving web traffic. They're designed to help you optimize and measure your results for each objective across multiple ad sets and ads. Each campaign can feature multiple ad sets, each of which has its own budget and schedule. You can also organize each ad set to represent audience segments. Within each ad set, you can have multiple ads, each of which can feature different images, links, video or text.
Step #3 Design Your Ad
You now need to write your ad copy (the words you'll use in your ad) and choose a set of suitable images to accompany the text; you can choose up to six images. Upload visually appealing, eye catching images, either from your own picture library, or by taking advantage of the partnership between Facebook and Shutterstock which allows you to access stock images for free.
The following image from Facebook's Official Ads Guide is a helpful illustration of how a fully optimized ad looks.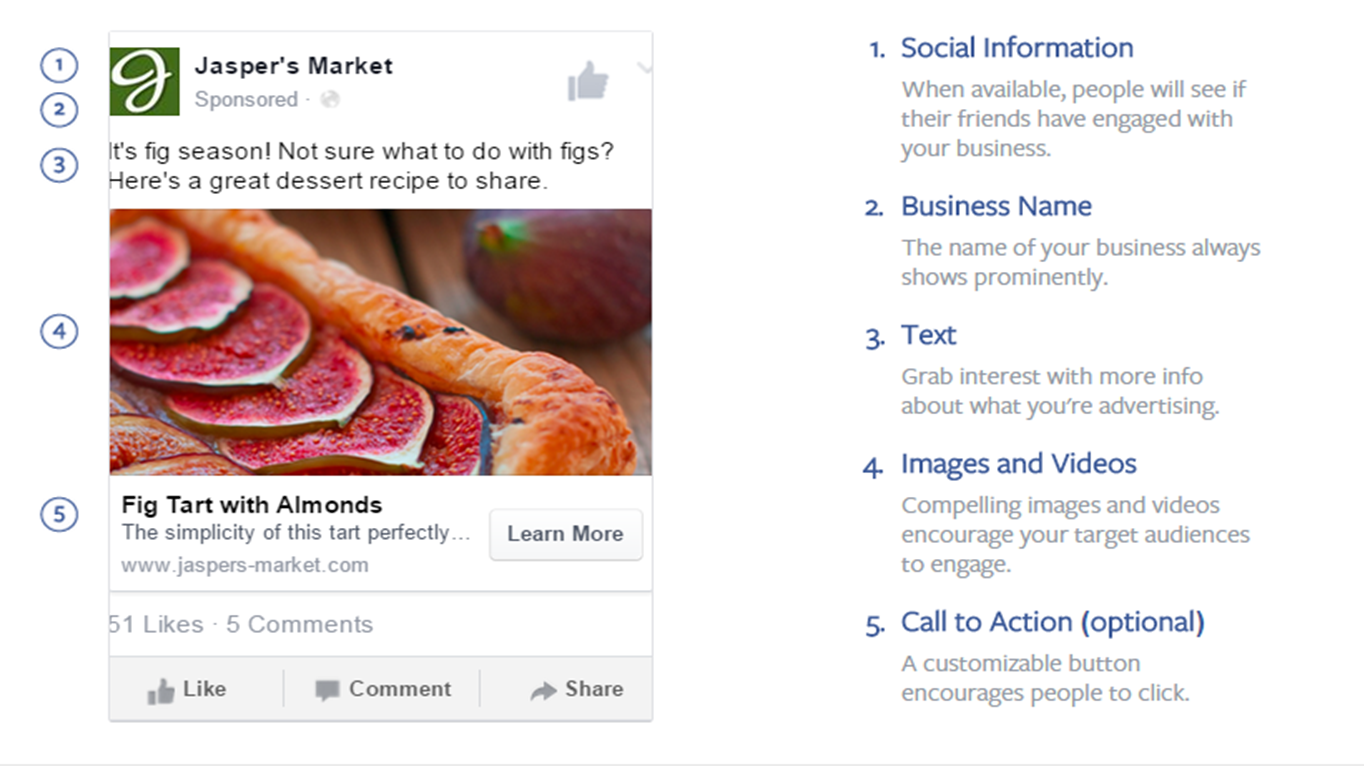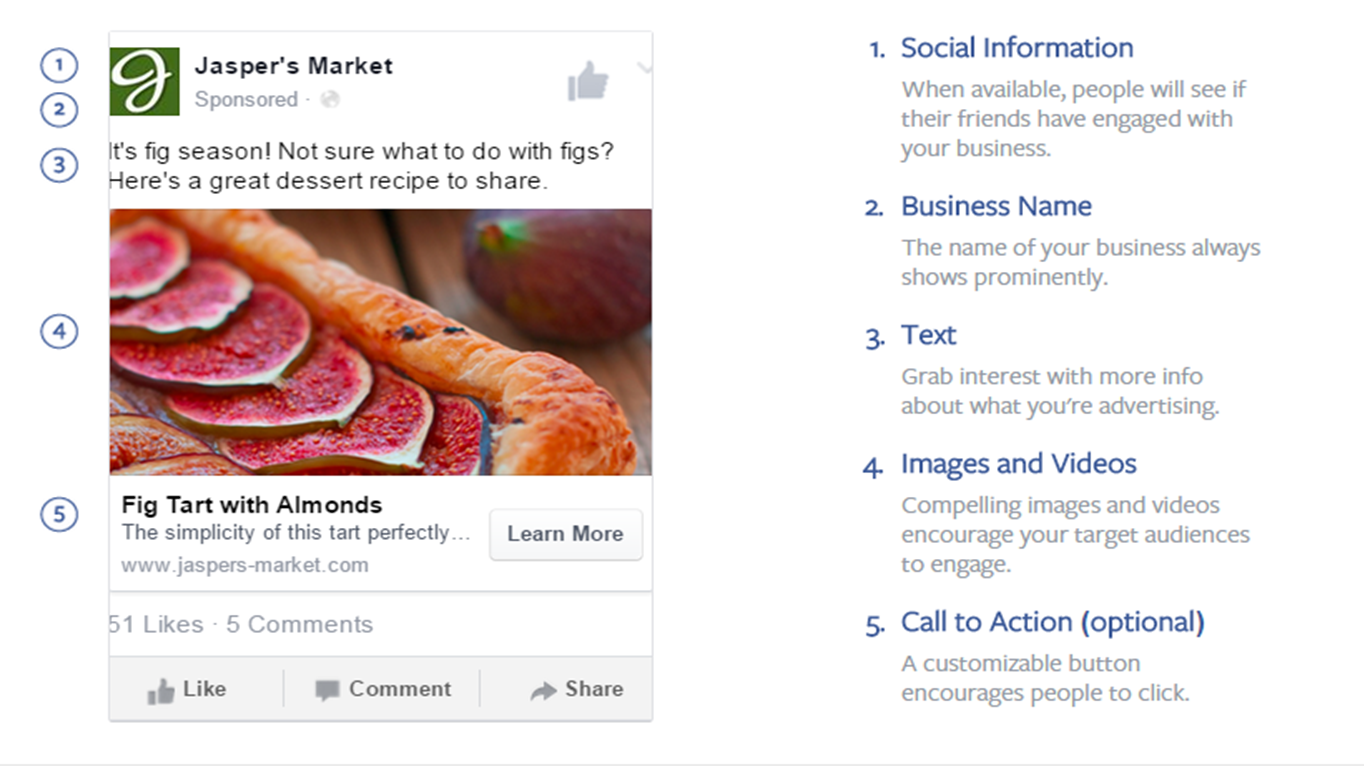 Writing your ad copy
Keep your copy short, clear and catchy;
You are allowed only 25 characters for your headline so be clear and direct;
Write compelling text that lets people know exactly what you are promoting;
Add a clear Call-To-Action to

encourage people to click on your ad now;

Test different versions of your ad to see which works best.
Now click Advanced Options to choose a Facebook tab or a landing page on your website where people will be directed to when they click on your ad. You have three choices when it comes to where your ads will appear on Facebook – the News Feed, Mobile, and right-hand side of a user's Facebook News Feed.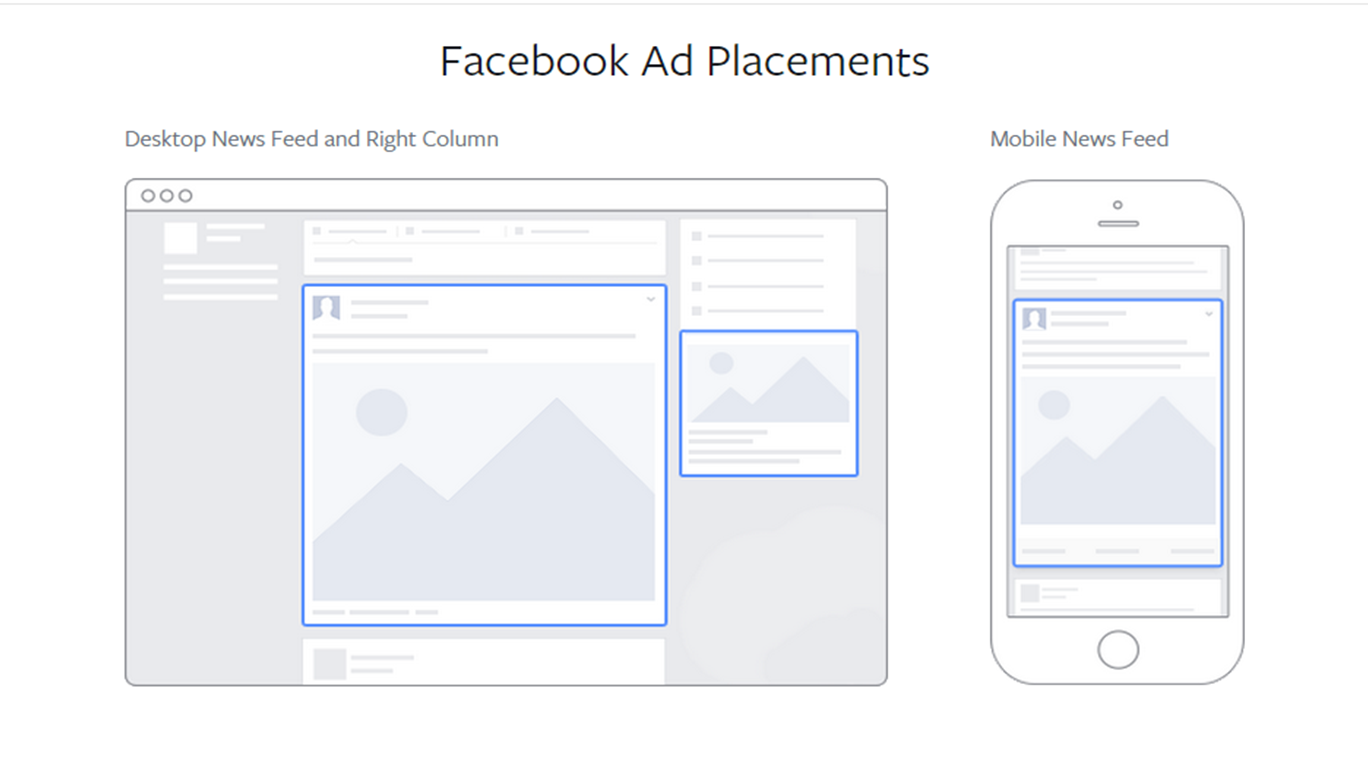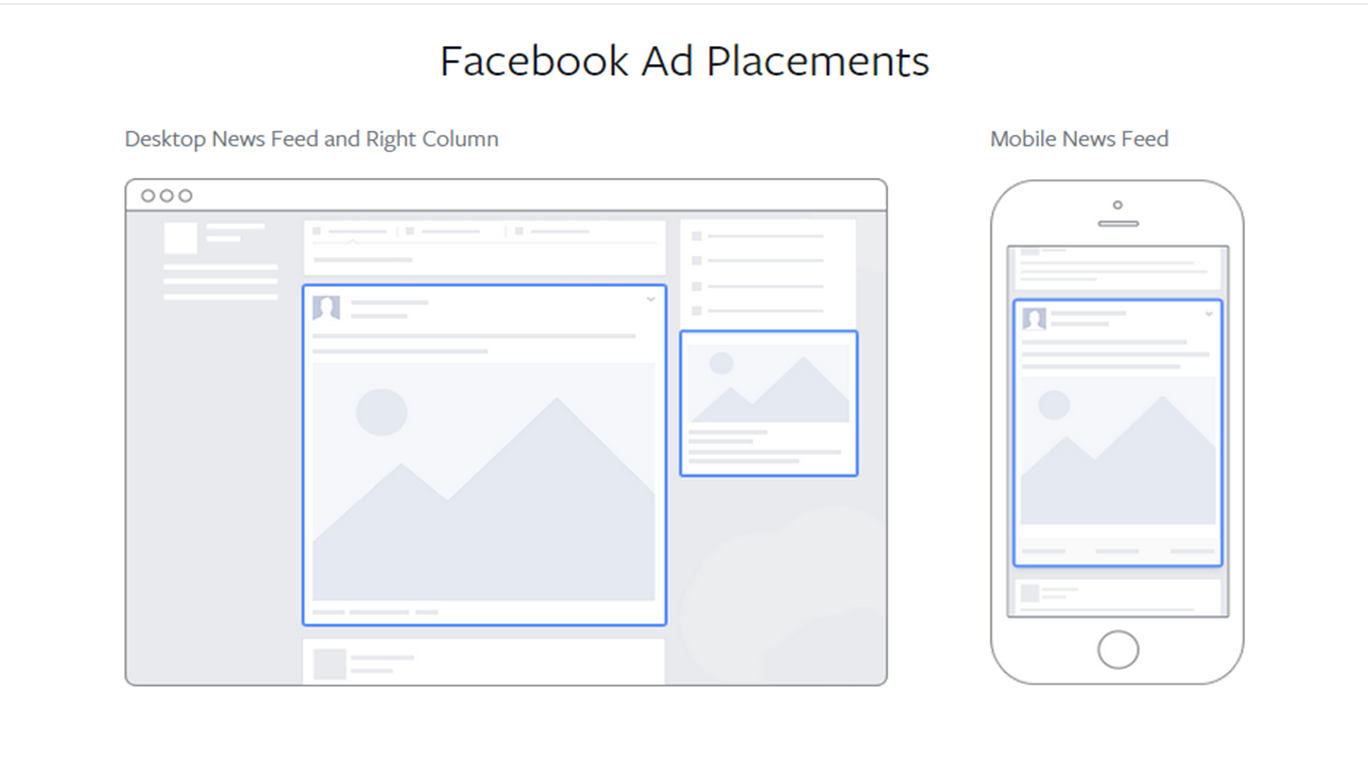 Although ads in the News Feed are likely to get higher engagement metrics, right-hand column ads are cheaper and may well work for you. The key is to test for yourslef to find out.
Step #4 Which Ad?
Facebook offers a wide range of ad formats and at first glance it may seem confusing to know which type to choose. The golden rule is to match your ad to your objective, so for example if you want to increase Facebook page likes, you would choose Page Like which directly links to your Facebook page. The following chart will help you differentiate between the different types of ads and choose the right one for your specific marketing goal.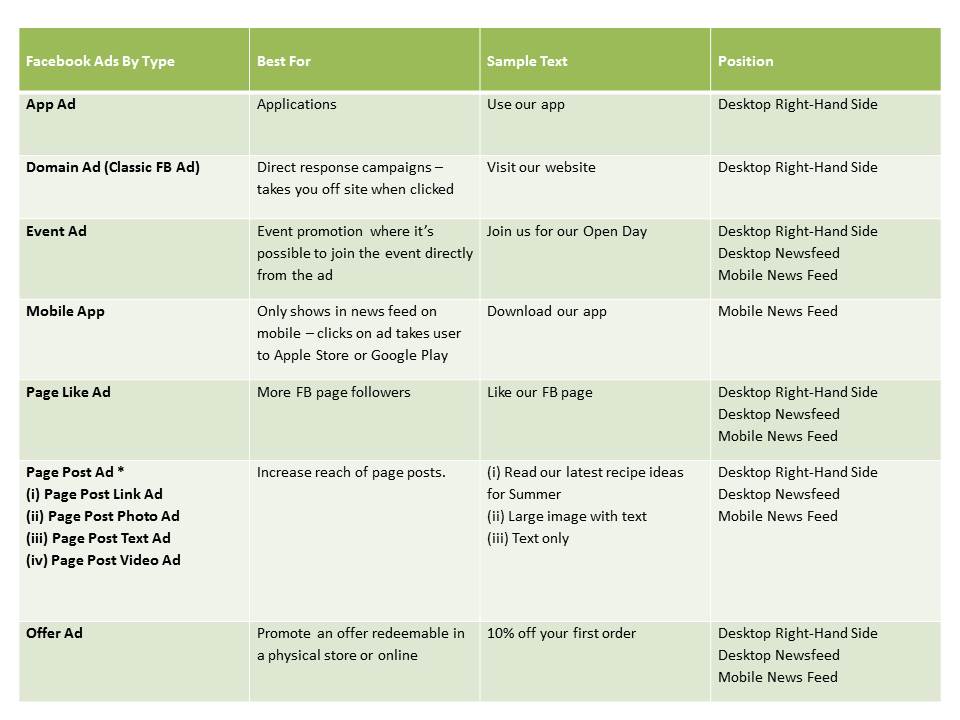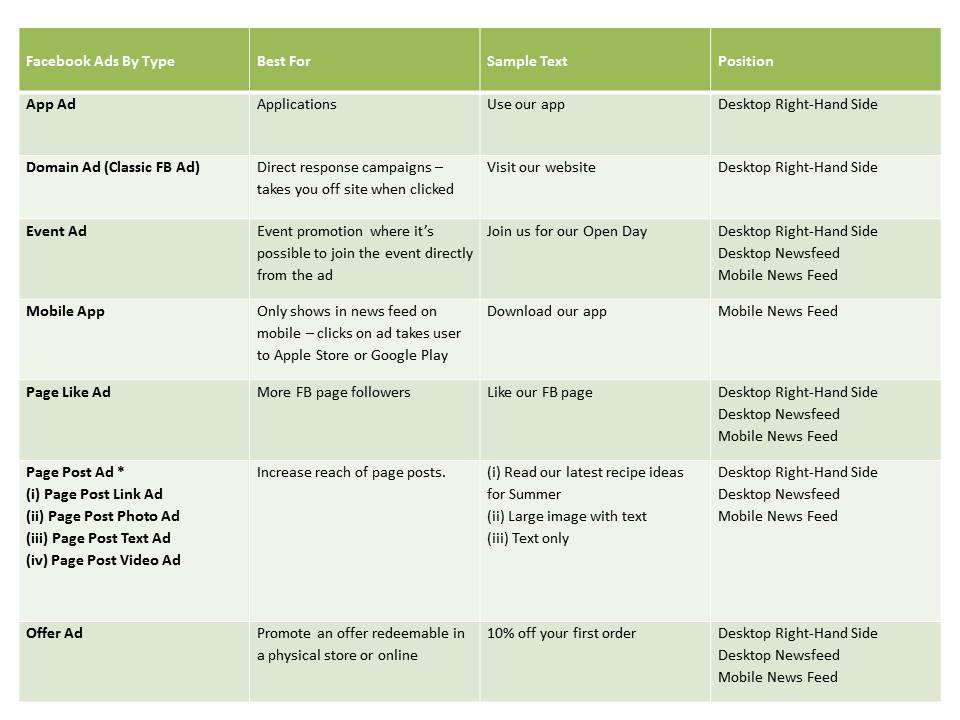 You also have another option to "boost" a post so that it can be shown to more friends. Boosting a post is very easy to do directly from your page's timeline, but it's worth taking the time to explore the advanced targeting options through Ad Manager. The key difference between Boosted Posts and Page Post Ads is that the former can only be shown to your existing fans and their friends, while Page Post Ads can also reach fans outside your page.
Step #4 Identify Your Target Audience
Knowing who to target is a critical step in creating a successful campaign. With over 1 billion Facebook users you need to know which target group are most likely to be interested in your product or service. The key to getting the most out of social media promotion is to target audiences as specifically as possible. The most powerful way to do this is through Facebook's Custom Audience feature.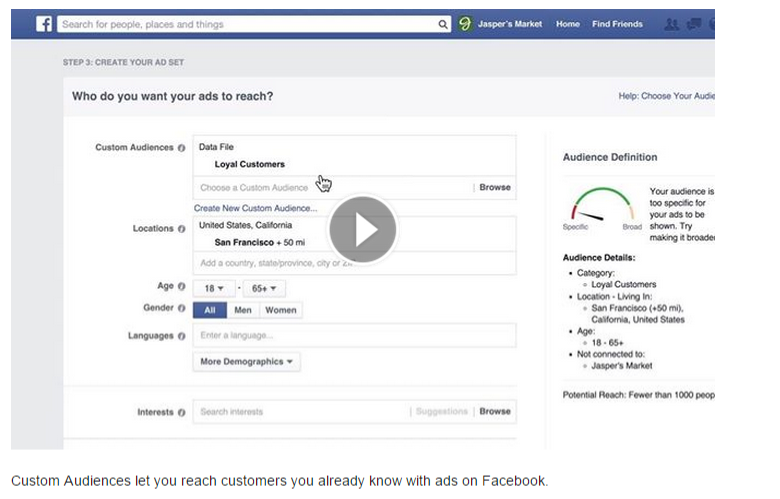 If you have a list of email addresses or Facebook user IDs of people you already know are interested in your brand, you can upload this list to Facebook who can turn it into your very own custom audience. You can target people by location, age, gender, interest, relationship status, language, education and even workplace. In Power Editor you have more targetted options, such as Lookalike Audiences, which let you reach new people who are likely to be interested in your business because they're similar to customers you care about; and Saved Audience, an option that allows you to reuse targeting groups that you have already created.
Step #5 Determine Your Budget
Finding the right balance between cost and reach is key to getting the most out of your marketing budget. You can specify either a daily budget or a total budget you want to spend. Ads can run continuously or have a start and end date. You should limit the date range if you have ads for events or other time sensitive items.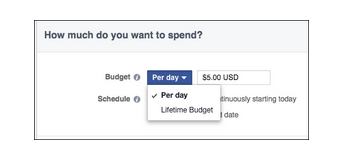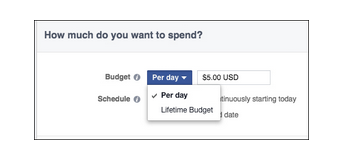 Tip: Check out this tool to help you decide on your budget.
You can also decide how you want to pay – either for specific actions (such as Likes or website purchases), or per thousand impressions. Facebook will help you choose the best one. Pricing varies according to the competition in the demographic you're targeting. The following chart provides a guide to cost options.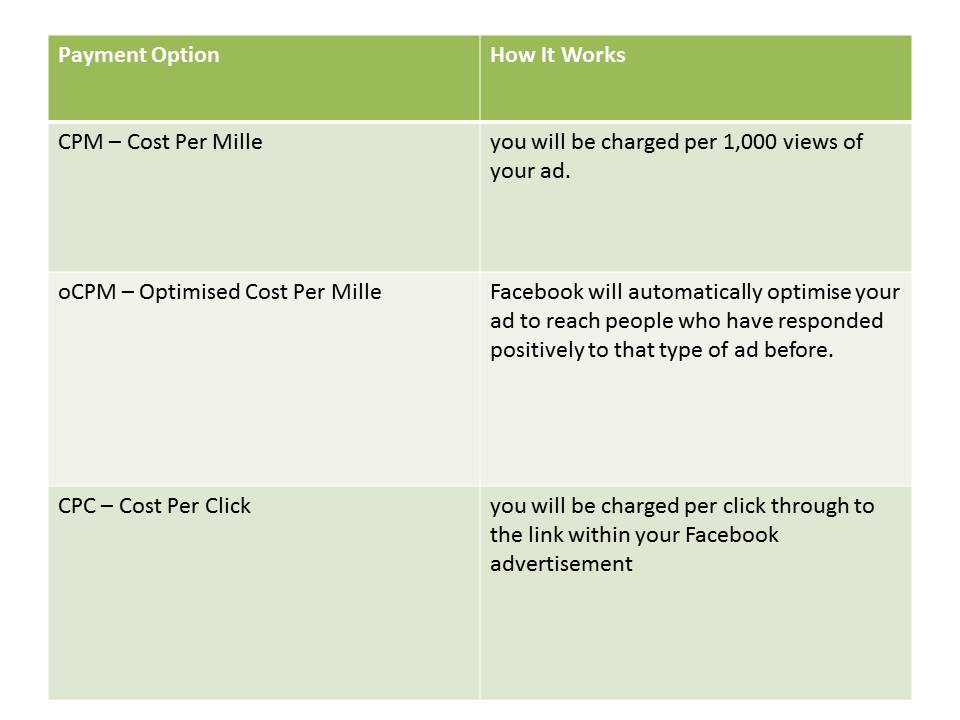 For a more detailed guide, read this article.
Step #6 Review And Submit Your Ad
Once you are happy with how your ad looks, click Submit.
Step #7 Track And Measure Your Ad Campaign
Facebook provide you with detailed metrics to track and measure your campaign's performance. You can see which ads are performing best and make any adjustments necessary. If your goal is to increase conversions (e.g. sales) on your website, Facebook's tracking and optimization tools can help. By placing a conversion pixel on your website and then adding it to your ad, you'll know exactly which ads led to your conversions.
At first glance Facebook advertising may look complicated, but if you take things step-by-step in the begining, set a small budget and test out different ad types, copy, and images, you will soon learn if advertising is right for your healthcare marketing strategy. Facebook advertising offers the ability to target your customers and expand your reach. Paid promotion is here to stay; so if you want to make an impression on Facebook, you need to be prepared to "pay to play".