Telemedicine has been around for a while and is used to provide medical care remotely. However, with the introduction of new technologies, new ways of providing remote medical care are being explored.
One such emerging technology is the Telemedicine app which allows patients to interact with doctors via video calls and get their prescriptions without having to leave their homes.
Currently, 76 percent of U.S. hospitals connect with patients and consulting practitioners at a distance through the use of video and other technology. That is why this article will talk about the tips and tricks of telemedicine app development.
What is Telemedicine?
Telemedicine is a branch of telecommunication that deals with the use of electronic information and telecommunications technologies to provide clinical health care.
The word "telemedicine" is derived from the Greek word "tele", meaning "distant", and the Latin word "medicus", meaning "medical practitioner."
Telemedicine is a way of providing healthcare remotely through the use of advanced medical technologies such as video conferencing and teleradiology. Telemedicine can take place in a variety of settings including hospitals, private practices, schools, nursing homes or even at home.
What Are Telemedicine Apps Benefits?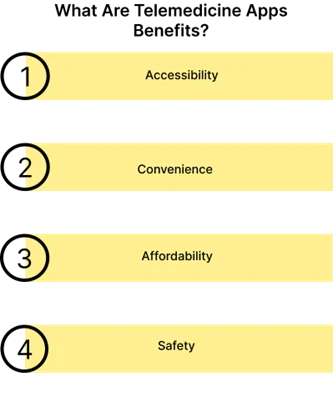 The benefits of these types of mobile applications are numerous. They provide immediate care without the need for an office visit, they can offer remote consultations with doctors from all over the world, and they can help people who live in rural areas or developing countries receive high-quality medical care.
Accessibility
Telemedicine apps are a great way to access medical care and advice when it is needed. The app gives you the opportunity to get quick medical advice and treatment information, as well as the ability to book an appointment with a doctor when necessary.
The telemedicine app also provides a sense of security for the user, knowing that they can have access to medical care, no matter where they are.
Convenience
Telemedicine apps are convenient because they allow you to stay in touch with your doctor without having to go into the office for regular checkups.
The best telemedicine apps are also affordable and easy to use. This makes them a great option for people who travel a lot or those who don't have access to a good healthcare system.
Affordability
Telemedicine apps provide a cost-effective and convenient way for patients to get medical care. They can connect with a doctor from their home or office, at any time of the day.
Safety
Telemedicine apps provide a safe and secure way to access healthcare services. With the help of these apps, you can consult with doctors in different countries and get medical advice from anywhere in the world. They provide a quick and easy way for people who do not have access to good medical care or those who cannot afford it.
Why Start a Telemedicine Business?
Sloboda Studio is a custom software development company that has been in the market for more than 12 with lots of experience creating telemedicine apps.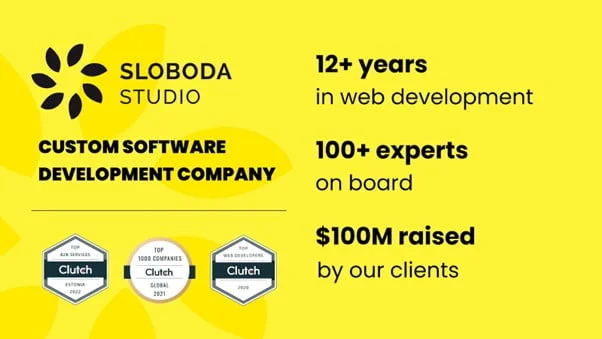 Let's tell you some of the main reasons why you need to start a telemedicine business:
The Pandemic
The idea of using telemedicine to handle pandemics comes with a few major benefits.
We have seen that firsthand during this recent COVID-19 period.
First, it would allow for the rapid distribution of information about the pandemic and treatment methods, which is needed to contain the virus.
Second, it would make it easier for healthcare providers to monitor patients and track the spread of the disease.
Finally, it would allow patients to get treatments they otherwise wouldn't be able to get because they live in remote areas or don't have access to medical care.
The Boom of Venture Investments
Telemedicine is a fast-growing industry that offers the chance to make money in a way that is both profitable and socially impactful.
The telemedicine market is expected to grow at an annual rate of 27.2% during the forecast period of 2017-2022, with the total market size reaching $6.7 billion by 2022.
The telemedicine industry has shown strong growth potential and will continue to do so in the future with government initiatives, increasing demand for healthcare services, and technological advancements.
Expert Tips for Telemedicine Software Development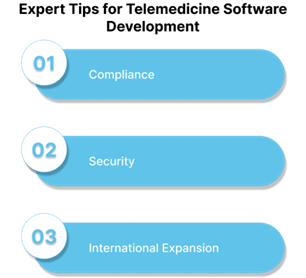 Before you dive into creating your own telemedicine app, here are some expert tips to ensure success:
Compliance
It is important to remember that some of the key components of telemedicine software development are compliance and security.
The federal government has strict guidelines for healthcare providers who are looking to develop telemedicine software. Some of these guidelines include maintaining a secure network, protecting patient data, and having a backup plan in case something goes wrong with the network.
HIPAA Compliance
The United States Department of Health and Human Services (HHS) has established a set of regulations called the HIPAA Privacy Rule. This rule establishes a set of standards for protecting an individual's health information.
When developing software for telemedicine, it is important to review the HIPAA Privacy Rule and understand your obligations as a developer.
Security
Security is a major concern for any organization, and telemedicine is no exception. In a telemedicine environment, the patient's medical records are often accessed by multiple providers, which increases the risk of data breaches.
The key to securing a telemedicine software system is to encrypt all data at rest and in transit. This will ensure that only authorized users can access sensitive information.
Security should be one of the top priorities for any organization when developing telemedicine software – especially regarding data encryption at rest and in transit.
International Expansion
When building a telemedicine app, it is important to think about the future. If you intend to ensure that the app is used worldwide, then make provisions to accommodate all the rules and regulations of the international community.
Conclusion
Telemedicine apps are used for a variety of purposes. From diagnosing illnesses to providing mental health services, telemedicine apps can be an excellent resource for people who do not have access to in-person healthcare.
The benefits of these types of mobile applications are numerous. They provide immediate care without the need for an office visit, they can offer remote consultations with doctors from all over the world, and they can help people who live in rural areas or developing countries receive high-quality medical care.
That is why creating a telemedicine app will be a very profitable business venture.