Becker's Hospital Review recently published its Top 10 list of the challenges and opportunities facing hospitals in 2014.
Becker's Hospital Review recently published its Top 10 list of the challenges and opportunities facing hospitals in 2014. Although acknowledging that the challenges appear daunting when taken together, the article also stated that viewing them instead as individual challenges might be more helpful in developing strategic approaches for each. When reviewing this list it appears that some items can be managed through internal mechanisms while others are best addressed through improved hospital marketing efforts. Some of the areas where improved marketing comes into play include: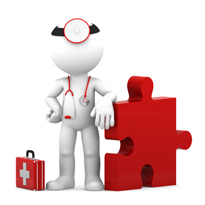 Health insurance exchanges: Hospitals stand to benefit from making sure there is maximum awareness of these exchanges by having an increased amount of the patient base that is insured. Hospital marketing plans can include promoting the benefits of signing patients up for the exchange. Online marketing by hospitals can be extremely effective at communicating the benefits of the exchanges and motivating consumers to enroll. Educational blogs or website videos which explain how to sign up not only serve to increase the percentage of the insured population, they also help the hospital build a relationship with now-insured patients.
Sustaining the mission: This may mean different things to different hospitals, but marketing can play a prominent role in achieving this goal. A marketing strategy that includes SEO optimization helps hospitals make sure that the messages they need to communicate are getting through to their target audience.
Price transparency: According to the article, "areas that may be especially prone for price scrutiny are imaging, diagnostics, pharmacy and ambulatory surgery." Hospital marketing plans will need to include ways to differentiate base or "sticker" price from the value of the services received. Hospitals need to communicate effectively to price-conscious consumers who may be concerned about higher deductibles under the ACA. If a particular hospital's price appears higher, prospective patients who may be "price shopping" need to be educated about the benefits they will receive by choosing this institution.
Physician recruitment: Younger physicians entering the medical field are more accustomed to researching job opportunities on the internet. Hospitals which have a strong online presence that propels them to the top of the search engine results have a better opportunity of capturing their attention in the initial recruitment phases.
Access to care: The article also reported that "Retail clinics present a wealth of opportunity for health systems and hospitals, many of which have been eying consumer-facing primary care with great interest." Strong marketing plans will be needed to communicate to potential patients for these clinics as well as build a relationship with the hospital for major medical care.
Some of these challenges are new and some have been around since hospitals began, but the ways to address them are changing rapidly. Hospitals which rely on traditional advertising and marketing methods to solve today's growth challenges may find themselves falling behind colleagues that are already including online marketing as a crucial component of their education and communication strategies.