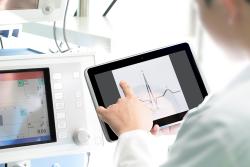 Why Patients Need "E Interventions" Now
"The future is here, it's just not evenly distributed yet." – William Gibson
"The future is here, it's just not evenly distributed yet." – William Gibson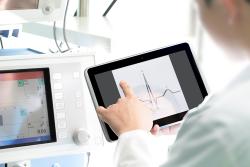 We can sequence human genomes of babies before they are born with a drop of their expecting mother's blood. We can monitor patient's physiological metrics in homes with wireless enabled devices to help predict a heart attack. We can deliver handheld ultrasound device signals along with a video conference of the patient to a physician anywhere in the world via a mobile phone. Yet, we wonder when the healthcare future will come to us.
The delay of these innovations may be attributed to the lack of reimbursement from the traditional health insurance system. Medicare Part A, B, C or D and commercial insurers do not reimburse for these innovations, thus they are Medicare Part E (none of the above). Yet "E Interventions" may improve patient outcomes and/or reduce cost by preventing expensive Emergency Room visits. It could be a physician eVisit, ride to the cardiologist, Meals on Wheels delivery or patient education.
While Medicare represents only 20% of healthcare spending, its reimbursement system is the foundation of commercial healthcare insurance before overlaying unique provisions. Medicare is slow in adding reimbursement for innovation that can diagnose, treat or monitor patients more effectively and efficiently. The delay may be attributed to:
waiting for peer reviewed scientific research to ensure efficacy,
lack of a reimbursement method that prevents fraud and abuse,
determining supportive documentation that is not too onerous, or
speed of the Federal Government (Medicare) process to implement changes
We can't afford to wait. Here is why we need "E Interventions" now:
1. High cost patients need more – For the 5% of patients that consume 50% of the total healthcare spending in the United States, traditional Medicare Part A, B, C & D is not enough. The future is here in effectively treating patients in their homes, yet Medicare will only pay if all 4 statements are true:
Patient needs infusion (e.g., IV), wound care or therapy (i.e., physical, occupational)
Patient stayed in a hospital for three consecutive nights
Patient has physical difficulty getting to a physician office
Patient did not use their 60 day allotment from their three night hospital stay
It is easy to imagine patients that don't meet the criteria, benefitting from home health. Yet any home care service outside this narrow criteria would be an "E Intervention", with no reimbursement.
2. Traditional reimbursement will not come fast enough – conceptually, expanding home health services and physician telehealth is logical. It's administering reimbursement that causes the delay. Medicare recently announced the 2015 Physician Fee Schedule that touts additional reimbursement for telehealth. A closer look into the rules states that the telehealth visit must meet the following to qualify for reimbursement:
Video conference between patient and provider (i.e., physician)
Patient in a physician office and the treating provider in their office (no one can be home)
Patient must live in a designated rural zip code
With two provider offices involved and the patient needing to drive to an office, the convenience and efficiency of telehealth is lost in the antiquated reimbursement system. While more qualifying telehealth visits (annual wellness, psychoanalysis, psychotherapy, prolonged evaluation and management) are proposed for FY 2015, it may take years before telehealth visits are just 1% of in-office visits. I'm not sure how many annual telehealth wellness visits there will be when the patient could just have the rural provider's office provide the annual visit.
While state Medicaid programs, providers like Kaiser Permanente and commercial insurers like Wellpoint are moving faster than Medicare to offer physician telehealth, they still represent a small subset of total physician visits.
Medicare's strategy instead is to move patients into Medicare Advantage, Accountable Care Organizations, and Bundled Payments and let the 'at risk' entities figure out "E Interventions". It is unlikely much time will be spent developing traditional reimbursement regulations for new innovative services.
3. Some "E Interventions" may never get reimbursed – it is unlikely providing air conditioners to heart failure patients or medicine reconciliation in homes will ever get reimbursement. Even though it could prevent a $50,000 hospital stay for some patients.
4. We need to understand which "E Interventions" work – we have scientific research on Medicare Part A, B , C, and D and very little on "E Interventions". We need to understand which "E Interventions" are cost effective, for which patients and at what intensity levels.
5. We need to understand the barriers to patient recovery – the lack of reimbursement for coordinating care may be why we don't ask patients if they need help paying for their medicine, getting a job, understanding their condition or finding housing. Yet, without understanding patient barriers and tracking them with outcomes, we will not learn their level of impact on outcomes and cost (see "14 Barriers That Delay or Prevent Recovery").
6. ACOs, Bundled Payments & Patient Centered Medical Homes need "E Interventions" – organizations "at risk" for the total cost of their patients need to know which "E Interventions" are effective and their potential impact on outcomes and cost. Without understanding their potential impact, it is unlikely they will reach into their pockets to pay for something without a good level of confidence.
innovation in medicine / shutterstock