Science Foundation Ireland and the Royal College of Surgeons Ireland (RCSI), have joined forces to develop an on-line 3D guide showing the human body in motion from the outside in. Anatomists, artists and engineers have collaborated on this project using color, illustration and 3D technology. The 4 hour teaching program will shortly be part of the curriculum/training for medical students in Dublin, Bahrain and Kuala Lumpur.

"Medical students are reluctant models, so getting one to take off his shirt to demonstrate the surface anatomy of the heart valves can be a challenge. Yet surface anatomy is the basis of clinical examination and students must learn where to listen to the heart, the markings of the liver, the sites of incisions and the movements of joints – in short the site of everything from the outside in. Artists also do not always have access to a live model either, and for them a knowledge of the underlying skeletal and muscular structure is fundamental to drawing and painting the figure.This guide allows us to teach these vital lessons in a richer and more engaging manner and on a more frequent basis," said Prof. Clive Lee, Head of the Department of Anatomy, Royal College of Surgeons RCSI and Honorary Professor of Anatomy at the RHA.
Stereo 3D has been around for a while, but it is still difficult to shoot film with the technology. It entails having 2 camers mechanically and electronically coupled to each other and fixing the pictures post-production using signal processing algorithms.
The 3D project, entitled 'Anatomists, Engineers & Artists – Anatomy from the Outside In' was a big hit at last November's RCSI Innovations Exhibition put on by the Royal College of Surgeons in Ireland (RCSI). (Image:RCSI)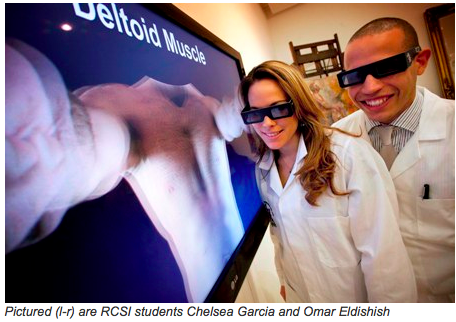 Watch the video to get a glimpse of the project:
Sources:
Science Foundation of Ireland, Irish-Based Researchers Create World's First 3D Surface Anatomy Guide
TechCentral.IE, Irish researchers create world's first 3D anatomy guide
RCSI, RCSI to showcase its innovations at exhibition
To read other posts in this exclusive ongoing series, please visit the Mobile Health Around the Globe main page. And if you have a Mobile Health Around the Globe story to tell, please post a comment below or email me at joan@socialmediatoday.com Thanks!