Part Two—Interview with Eric Peacock, CEO, Co-founder, MyHealthTeams
Part Two—Interview with Eric Peacock, CEO, Co-founder, MyHealthTeams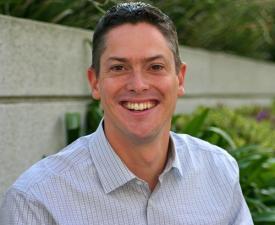 Eric Peacock co-founded the social networking company MyHealthTeams to help people suffering from chronic conditions find better ways to communicate with each other and share valuable information. In 2011, the company began with the launch of MyAutismTeam, an interactive social media site serving parents of people with autism. It has since expanded, launching MyBCTeam to help women diagnosed with breast cancer and MyMSTeam for multiple sclerosis (MS) patients, and Peacock plans to create many more sites for people living with certain chronic conditions. In Part One, we discussed the creation of MyHealthTeams, what role social media can play in patient-centric healthcare spaces, and how this concept became popular. In Part Two of our interview, we talk about how the sites work, and the untapped potential of the Internet to provide meaningful social interactions for patients, and their families and friends.
What does the future look like for online, patient-centric social networking communities?
I think in a few years, one of the things a doctor will tell you is "here is an online community you should go to." With the Affordable Care Act, capitated pricing in health care, and the real demands and expectations of consumers with a chronic condition wanting to learn from others in their shoes, social media will be a part of the healthcare equation. Hospitals just can't do this on their own. Providers and their patients will rely on patient communities. Any doctor will have only so much time to spend counseling patients. And oncology nurse navigators, who are the unsung heroes in cancer care, will be absolutely overwhelmed by their workload. They will want safe places where the people they serve can connect with others like them.
What makes MyHealthTeams different from other online communities?
I think what makes each of our social networks unique is that we provide all of the social media tools and functionality people were using before they were diagnosed with a chronic health condition, but now we give it to them in the context of their specific condition. A lot of online communities for people living with chronic health conditions are still in the old discussion group format—that's not social media. A lot of online health communities are general; we have a dedicated social network for each condition we serve.
What do you see as the "want" for patient-centric communities in the online space?
They don't want to feel like they are reinventing the wheel. They want it to be easy to find others exactly like them, and share with them. Women with breast cancer want to do social networking about breast cancer, but they don't want to do it on a place like Facebook where the guy they dated in high school can read about it. They want to know that everyone else on the site is a woman with breast cancer, and they want to be able to connect with the subset of women most relevant to them within that population. Some women want to find others with the same stage or type of breast cancer. Others compare notes on common medications, types of reconstructive surgery they pursued and so on. Our entire mission at MyHealthTeams is about making it easy for you to find the best people around to help you. That means meeting other people diagnosed with the same condition, but also the providers they recommend.
What are the requirements for joining a MyHealthTeams site?
For MyBCTeam, you have to be a woman diagnosed with breast cancer. For MyAutismTeam, you have to be a parent of a child with autism. For MyMSTeam, you have to be a person diagnosed with multiple sclerosis. These sites are designed for you to connect with people just like you. These connections are vitally important. There is very real evidence, including a study by Kaiser in 2012 that shows that women with low levels of social support don't fare as well as women who do have that support. This is an outcome measure that can be impacted right now.
For example, if you're diagnosed with MS, part of your treatment includes social engagement. People with MS lose mobility. They withdraw. Neurologists say they like MyMSTeam because their patients stay engaged. And they can be engaged via computer, smartphone or other device, so their lack of mobility isn't as important as it would be if they had to drive to a patient support group.
What specifically does the site offer?
Each site is like a combination of Facebook, Yelp, Pinterest and Quora – but only for people with the same condition as you (e.g. breast cancer). On each site, you can see every conversation as it happens. It's very much like Twitter or Facebook; you can post updates, and talk to other users online. You can "like" posts from others, or give a "hug," when people are having tough days. You can share your story and diagnosis, and search for others based on a number of specific criteria (e.g. stage or type of breast cancer, age, city, drugs you are taking, side effects you are experiencing), to make sure you can find people exactly like you. You can also see the "teams" of providers each person recommends. On a site like MyAutismTeam, which has 50,000 parents of kids with autism on it, you can find referrals on everything from developmental pediatricians and occupational therapists, to the dentist, barber, swim teacher and summer camp who understand how to work with a child on the autism spectrum.
This is true social networking, with real people, with real profiles. On MyBCTeam, for example, we have about 5,000 on the site. One woman told the MyBCTeam community that she was pregnant before she told her own parents! That's how close people get here. We also set up a place where people can tell their own stories; women with cancer are particularly interested in each other stories, in their own words. These sites include people who really get to know each other, and they are trading advice, and sharing a wealth of information. There is a very rich Q&A section where you can ask and answer questions from others in this safe community.
We release a new version of our social networks every Friday, based on feedback from users. One thing we found is that we do not guess what types of people users may want to connect with. Just give them the tools to search in any way they see fit, and get out of their way.
We don't give medical advice and we're not HIPAA-compliant. You must register, but it's all opt-in. That means everything you share can be seen by everyone else on this site. But nothing is shared outside of this site.
What's the engagement level?
About 60-75% of our members share their full stories and profiles. We have more than 50% engagement on MyBCTeam and MyMSTeam.
Another example of high engagement is our Q&A function. We have a 99% answer rate on our Q&As. These are not anonymous, and the quality of content is good, because you can see who's answering. People are a lot more thoughtful with their answers.
Do you think social networks like this could help boost patient-centered, patient-powered research?
Absolutely. We're already starting that. I'm working with a few pharmaceutical firms that I can't name right now. We have over 8,000 people on the MyMSTeam site. 85% of them want us to notify them when we learn of clinical trials that could be relevant to them. We can do that without ever sharing any of their information with the pharma company. We just message our users on things that would be directly relevant to them and then they choose whether or not they want to engage on it. Across all three of our social networks there is very strong interest in engaging with pharma companies in the design of trials. Members have the option to participate in a group that gives input to a pharma company conducting trials so that they have a say in designing the trials that will be easiest to participate in. Clinical research should be more customer-centric than it is currently. Our goal is to help bring our members voice to the table in a way that empowers them while protecting their personal information.
Why hasn't the web at-large caught up with concepts like MyHealthTeams?
I see two factors:
People in healthcare were applying Web 1.0 solutions, when patients had already grown accustomed to social networking. Instead, providers relied on forums and groups, where providers explain things and provide factual information. But they don't realize how important it is to network. Forums aren't social media. Mass market social networks like Facebook are much too broad to meet the real needs of people with a specific chronic condition.
Now, Web 2.0 and social media are starting to happen in health—niche networks are starting to rise. We're part of that. We partner with foundations and point our members to their sites for the latest research and medical information; they get the word out about us as well. We never ask our members for money so we are not competing with a foundation. It raises awareness for both of us and helps the patient communities we both serve.
The second issue is that hospitals and healthcare networks can't set up these networks that share information. They typically don't have good developers, so there's still a problem of technical expertise. And due to HIPAA compliance, they're not allowed to share patient information. In addition, many non-profit foundations are prohibited from recommending providers directly. But they can point to a site like ours. So, we've got an opt-in user site that is monitored, and fills a gap. We think we've created something that empowers users with chronic conditions to take control of their own health.