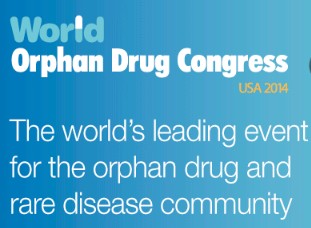 Highlights from the World Orphan Drug Congress 2013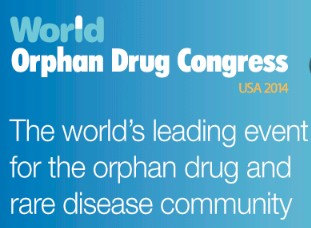 A key theme of the World Orphan Drug Congress 2013 was the need to innovate when it comes to the rare disease space. Presenters shared how rare diseases necessitate a different approach ranging from clinical trials to working with patients and the US Food and Drug Administration.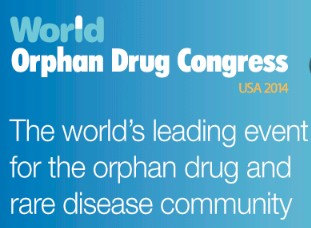 A key theme of the World Orphan Drug Congress 2013 was the need to innovate when it comes to the rare disease space. Presenters shared how rare diseases necessitate a different approach ranging from clinical trials to working with patients and the US Food and Drug Administration.
Claudia Hirawat, President of PTC Therapeutics, described some of the challenges of working on orphan conditions including the fact that the natural course of the disease is often not well documented and there may be limited standardization in diagnosis and treatment. Dr. John Orloff, Chief Medical Officer at Novartis, concurred "In many cases we're finding that in order to move forward we have to do natural history studies to understand the trajectory of disease."
Chris Garabedian, CEO of Sarepta Therapeutics, stressed the importance of innovative drug development and innovative regulatory science for boys with Duchenne Muscular Dystrophy who have no approved treatment. The Rare Disease Report provides a summary of his presentation and a few others.

More ideas from more sources
Dr. Freda Lewis-Hall, Chief Medical Officer at Pfizer, said "We must confront the reality that the research and development approach for large-scale chronic diseases doesn't readily apply to rare diseases." The current R&D model is linear and can become stalled, with bench to bedside taking a generation. She noted the success that prizes, games and crowdsourcing has had to move issues forward. She declared "We need more ideas from more sources."
The theme of innovation was carried through to a panel on clinical trials where Dr. Phil Vickers, Senior VP and Head of Research & Development at Shire HGT, described transforming the clinical research model. He asked, "Why can't we go to the patients and bring the technology to them remotely?"
The power of patients
Another key theme was the essential role that patient advocates play in orphan drugs. A unique feature of this space is that advocates are driving drug development and research, independent of, as well as in conjunction with biotech/pharmaceutical companies and academic research centers. What's great about the World Orphan Drug Congress is the number of patient advocates that present and attend the conference.
At Siren's workshop on the topic of collaboration with advocacy groups, Jamie Ring, VP of Patient Advocacy–Rare Diseases and Humanitarian Programs at Genzyme, a Sanofi Company, noted Genzyme's 30 year history in orphan drugs. Genzyme is a leader in the advocacy space, with Jamie leading a team of eight. They have transparent guidelines on how they collaborate with patients: they do not talk about products/brands, they do not provide medical advice and do not work with patients for a purpose that is not aligned with their values. Jamie said, "In rare diseases one size does not fit all in regards to patient advocacy organizations. You may have an advocacy organization or just an individual patient and both require and deserve support." Jamie highlighted the Genzyme Rare Community blog which features Genzyme's Principles of Collaboration and best practices of different advocacy organizations.
She provided advice for biopharma companies interested in collaborating with patient advocacy organizations including:
The company needs to have a single point of contact for advocacy groups to streamline activities and aid with clear and consistent communication.
Think creatively, there are ways other than money in which to provide support. Jamie gave the example of Genzyme's Patient Advocacy Leadership Awards which also promotes grant writing support.
Do what you say you are going to do! The basics matter.
When Jamie was asked how to get senior leadership buy-in for the advocacy role, she described the need to continually educate internally on the importance of the patient advocacy function. It's also important to bring the patients to the table.
The power of one advocate
Diane Goetz, Senior Director of Patient and Professional Advocacy at PTC Therapeutics, started her presentation by declaring that at PTC Therapeutics she IS the advocacy function! Diane represented the other end of the spectrum, working for a privately-held company working on pre-launch products. She described how advocacy groups can help with physician key opinion leaders, recruit patients, speed drug approval, support compliance, distinguish a company and provide assistance in a crisis.
Diane recommended biopharma companies make a public commitment to communicate clinical plans, timelines and other relevant information. She advised responsiveness and accountability to advocacy groups. Diane also noted that advocacy groups must remain neutral in order to be effective.
Patients are the starting point
Pat Furlong, Founding President and CEO of Parent Project Muscular Dystrophy (PPMD), shared her personal story and the genesis of PPMD. She noted that after 20 years, PPMD has true partnerships with clinicians, academia, biopharma, healthcare agencies and government.
Lori Sames, Co-Founder and Executive Director of Hannah's Hope Fund, shared her four year journey from the diagnosis of her daughter with Giant Axonal Neuropathy (GAN) to running a virtual biotech. She advised patient organizations to have something to bring to biotech and pharmaceutical companies. She noted that for pharma to want to support your diseases you need to bring value, whether it's a natural history study or patient registry. These are valuable assets that will help the biopharma company decide to invest in a disease. She urged advocates to focus on more than awareness.
Lori made the point that for donors, the word "research" doesn't really mean anything. She uses the phase "therapy development" because that is where the money her organization raises is going–to a treatment.
Pat summed up the afternoon: "It's important that patients are the starting point for initiatives concerning them. There is a lot to win if their experience and expertise is utilized."