The 128-Byte Data Field That Could Save Lives and Billions of Dollars
Editor's Note: Dan Munro is a contributing editor to Forbes. His columns are collected under the heading, "The HealthCare Compass."
I can easily think of 5 articles that highlight the extraordinary waste and cost of the U.S. healthcare system.
Editor's Note: Dan Munro is a contributing editor to Forbes. His columns are collected under the heading, "The HealthCare Compass."
I can easily think of 5 articles that highlight the extraordinary waste and cost of the U.S. healthcare system.
The PwC report concluded that about $1.2 trillion was wasted – each year. Here's how PwC further categorized that waste: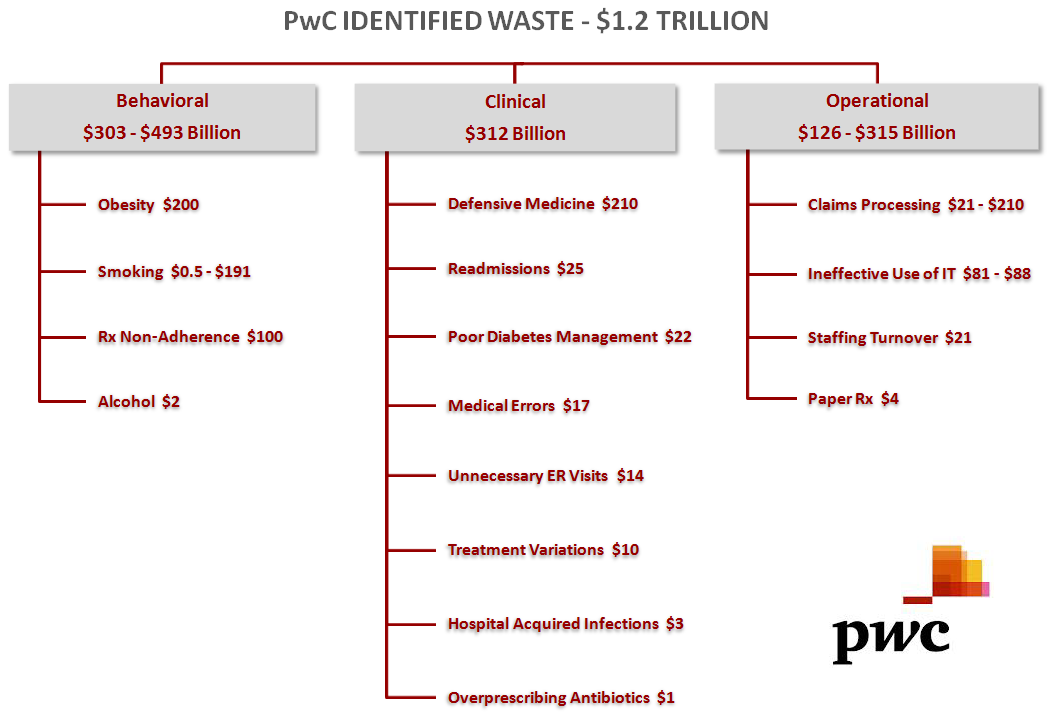 A primary mechanism for bringing efficiency into this antiquated system continues to be the drive to electronic health records – or EHR's. As of last month the Federal Government (acting on our behalf of course) has spent over $12 billion on EHR deployment nationally – and we're not done. Many consider the EHR Incentive Program (as legislated by the
HITECH Act
) to be the single most foundational element of healthcare reform. Nowhere, it seems, is data more critical or so lacking in it's capture, management and exchange than in healthcare.
Last week the Energy and Commerce Committee held a hearing titled: Health Information Technologies: Administration Perspectives on Innovation and Regulation (video here). Dr. Farzad Mostashari presented as a witness on behalf of HHS/ONC, and Christy Foreman presented on behalf of the FDA. In his prepared testimony (here), Dr. Mostashari was quick to highlight that:
"As of February 2013, more than 230,000 providers – nearly 43 percent of the nation's eligible professionals, and over 75 percent of eligible hospitals – have earned over $12.6 billion in total payments for meeting the requirements of the EHR Incentive Programs."
Neither the hearing or the testimony were that informative – except for the final question – which occurred in the closing 2 minutes. A key focus of the hearing – and questioning – was around the issue of "interoperability" of the EHR's themselves. The problem, of course, is that very few of these EHR software systems are able to communicate with each other. Often these EHR solutions can't even communicate between systems made by the same software vendor. Congressman Michael Burgess (R-Texas) finally asked this simple question:
"Dr. Mostashari, I just have to ask you here as we conclude today – hearing a lot of stuff about interoperability – I mean you're the head – why don't you just fix that? Why don't you just make that happen?"
Dr. Mostashari's reply was necessarily brief – and overly confident:
"We are using every lever at our disposal to increase the sharing of information."
It was the politically correct answer, of course, but it wasn't entirely true. There is absolutely another lever that the ONC could use – but likely never will. It's called a National Patient Identifier. HIPAA mandated a National Provider Identifier in 1996 and CMS began issuing those in 2006. Sadly – and clearly – patients don't warrant the same level of standard identification. Dr. Mostashari concluded his final reply with this declaration:
"We don't want to be the ones to say we'll choose the standards."
The challenge then, is both an industry and Government that collectively demonstrates a complete lack of patient-centered thinking. Basically, the EHR is the foundational infrastructure on which our entire healthcare transformation depends – but the healthcare "industry" can't agree on a standard patient identifier and our Government won't apply one.
The evidence here goes well beyond patient identifiers and EHR's too. Hugo Campos has spent several years fighting for his right to access the data that is generated by the cardiac defibrillator implanted in his chest. The medical device industry has concluded that Hugo has no legal rights to the data generated by his own heart. Hugo's TEDxCambridge talk is here. I caught up with Hugo by email over the weekend.
"Modern implantable cardiac devices are designed to transmit patients' health data to a device manufacturer who collects and uses it to their benefit. Doctors have some access to reports. Patients, however, are downright barred from their own device data. This raises serious ethical questions about data ownership and our right to access our own health information." Hugo Campos – ICD and Patient Advocate
HIMSS – the healthcare industries not-for-profit organization that is "focused on providing global leadership for the optimal use of information technology" – has itself suggested that " 8-14% of medical records include erroneous information tied to an incorrect patient identity." More recently, Marc Probst, CIO of Intermountain Healthcare, summarized his thoughts for an interview with FierceHealthIT:
The government needs to take a role in defining what these standards are, and getting them in place so that we can more quickly reach our destination. I wouldn't say I'm on the majority side of that conversation, but, HL7′s had, what, 30 years? SNOMED's been there for a long time. We can't get there. There's too many divided interests in trying to get to the end. To me, it's as simple as driving on the right side of the road, or using a single gauge of railroad across our country. Someone needs to define that and say 'go do it.' We also need time. They need to set these things – they need to do it now – and then they need to say '15 years from now, everybody's driving on the right side of the road' so we don't have absolute chaos, which is what we [currently] have. Interoperability is a huge part of the answer, and it's been evasive for all the wrong reasons.
Clearly the technical challenge of creating a National Patient Identifier isn't steep. You could start – for example – with a 128-byte field. That could easily include all the elements necessary to create a National Patient Identifier (including such variables as drivers license, social-security #, birth date, first and last name). The difficulty, of course, is industry-wide acceptance and adoption. I get that, but we've now had two Government passes at this – HIPAA and HITECH. Those efforts have spanned 20 years and spent billions of dollars – all while deftly avoiding a fundamental requirement – patient identification.
In the meantime, another key-element of healthcare reform is now leading many healthcare discussions – and headlines. It's called patient-engagement. I'm going to go way out on a limb here and suggest that patient-engagement is directly tied to another key patient attribute – trust. Given all the wonders of technology that patients live with daily – how easy or likely will that trust be granted when everyone understands that patient identity is directly tied to billions of wasted dollars, huge healthcare IT inefficiencies and 8-14% of all medical errors?
No one cares what it's called – or who invents it – and it may or may not be a single 128-byte field (although that could work). In many ways it's the first real test of Meaningful Use. It's also where real healthcare reform meets Patient Engagement.